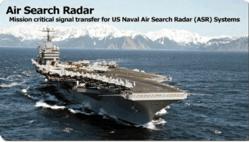 So far the Roll-Ring has lasted six times longer that our previous slip ring and the Roll-Ring is still going.
Littleton, MA (PRWEB) October 15, 2012
Diamond-Roltran, LLC supplies Diamond Roll-Rings to replace slip-rings for rotary power, signal and data transfer for military and aerospace markets. After over a decade of supplying the global military and commercial Air Traffic Control markets with Roll-Rings integrated with Diamond Antenna & Microwave multi-channel rotary joints for radar systems, Diamond Roll-Rings are found increasingly in other mission critical military and aerospace applications. In response to this growth, a new website has been launched to showcase Diamond Roll-Rings in these applications where maintenance free and long-life are important to operational readiness and value-conscious primes and governments. http://www.diamondroll-ring.com
Military customers are searching for solutions that combine high operational readiness with sensitivity to budget pressures and with sensitivity to the ever expanding role for service technicians. The tempo of battle has never been faster and that leaves no room for failure and even less room for unscheduled or even scheduled asset maintenance. Battlefield asset support crews are required to keep up with ever increasing complexity of equipment and maintenance practices.
Air, land and sea military applications now benefit from the rugged maintenance free long life operation of Diamond Roll-Rings. Slip rings contain wearing elements to provide electrical contact. These wearing components require periodic maintenance and can create damaging arcs and thus battle space failures if not properly maintained. Roll-Rings incorporate a rolling contact that creates negligible wear debris allowing units to operate for up to one billion revolutions.
The new Diamond Roll-Ring website includes five mission critical application stories covering the International Space Station, US Navy Radar System, Patriot Missile System, Mobile Artillery and Air Traffic Control. Customers responsible for the operation of these assets choose Diamond Roll-Rings for their maintenance free operation and long life. When NASA evaluated technologies to provide rotary power and data transfer between the solar collectors and the command module slip rings and rotary transformers were evaluated but dismissed due to the potential for slip rings to create a damaging plasma should it arc and due to the relatively low transfer efficiency of rotary transformers. Roll-Rings are captured between two grooves and are under slight compression to ensure that electrical contact is maintained in static and dynamic modes. Roll-Rings are also gold plated and run in gold plated grooves offering very low contact resistance while maintaining good current handling capability.
The US Army, the US Navy and the US Air Force all utilize Roll-Rings for mission critical applications. The US Navy utilizes Roll-Rings in its SPS-48E Air Search Radar system which provides long range detection of inbound threats for capital ships like nuclear powered aircraft carriers. Roll-Rings were chosen as they have the capability of extending the periodicity of an antenna system overhaul due to their maintenance free long life as compared to sliprings. Roll-Rings also eliminated the need for shipboard technicians to provide service to the units since Roll-Rings exceed the factory maintenance interval of the microwave rotary joint with which they are integrated . There is no longer a need to perform any maintenance at sea; coupled with Roll-Ring reliability, there is a significantly reduced potential for asset failure at sea and under battle conditions. Operational readiness and asset lifecycle cost reductions are core reasons why the US military has chosen Roll-Rings for mission critically rotary electrical transfer requirements.
The new Diamond Roll-Ring website is designed to provide visitors with an appreciation for the kinds of mission critical applications well suited to Roll-Ring technology as well as an in-depth understanding of the various features and benefits of this proven technology. Roll-Rings are successful in replacing slip--rings in military applications where 100% asset availability and maintenance free operation are important mission parameters to both the warfighter and the governments that pay for them.
About Diamond-Roltran, LLC
Diamond-Roltran provides the proven Roll-Ring rolling electrical contact solutions for rotary power, signal and data transfer requirements for mission critical applications the world over. Diamond-Roltran supplies Roll-Rings directly to military and aerospace customers worldwide and supplies Roll-Rings integrated into rotary couplers for microwave antenna applications through Diamond Antenna & Microwave.