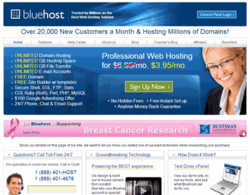 Bluehost Donates a Portion of Proceeds to Support Breast Cancer Research
(PRWEB) October 13, 2012
Bluehost, a leading web hosting service provider, recently announced to donates a portion of proceeds they receive in October to support Breast Cancer research, The donation will be given to Huntsman Cancer Institute, one of the world's leading cancer research facilities.
As we know about one in three women and one out of two men will be diagnosed with cancer in their lifetime. Roughly 2,140 new cases of invasive breast cancer were expected to be diagnosed in men in 2011. A man's lifetime risk of breast cancer is about 1 in 1,000. Over the years thanks to support groups that increased awareness and to find possible a cure, breast cancer incidence rates in the U.S. decreased by about 2% per year. Last year there were more than 2.6 million breast cancer survivors in the US. And Bluehost aims to speed up the percentage with the amount made through donations received from their customers.
Bluehost offers one of the world's most popular shared linux hosting, which includes rich features to help people built a site quickly. They now host over 3 million domains, and the number is still growing at speed of 20,000 domains per week.
In Hostucan.com, People could find many good customer reviews about Bluehost on its products and customer service. "I have been with Bluehost for over 5 years. All my sites are hosted by them. I couldn't be happier with their products and customers service," said a satisfied Bluehost customer.
The regular price of Bluehost hosting package is at $6.95/month. To help more people have presence online, Bluehost works with HostUcan.com to offer all the visitors from HostUCan with 50% off and the price could low to $3.95/month only. More than this, Bluehost also guarantees "Anytime Money Back", which means its customers could ask for the remaining money back at any time if they are not satisfied with Bluehost services. To know more about this news, please visit hostucan.com/news/bluehost-suppors-breast-cancer-research-2690.