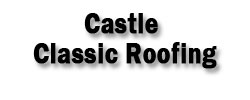 Grapevine, TX (PRWEB) October 18, 2012
Castle Classic Roofing, a trusted roofing contractor in Grapevine, Texas, is pleased to announce they it has partnered with the Dallas Morning News and 508 Digital to launch a new marketing campaign. The new marketing campaign is exclusively designed to create awareness for the company's products and service and to bolster visibility through a stronger web presence.
508 Digital is a marketing affiliate of the Dallas Morning News that offers businesses a full suite of online marketing products, which include websites and mobile website designs and hosting services, video production, search engine marketing (SEM), search engine optimization (SEO), mobile advertising including SMS (text) marketing, email marketing, press release publications and social media development.
The new marketing campaign has allowed Castle Classic Roofing to focus resources on building a more intuitive, content-rich website, along with an increased emphasis on SEO and Search Engine Marketing. They are constantly working to fine tune processes in order to provide a stronger customer experience.
"We are thrilled to be able to create an increased awareness for the quality roofing services we provide by partnering with 508 Digital," said Todd Crosby, owner of Castle Classic Roofing. "We are excited to personalize and differentiate our business through the suite of marketing products that 508 Digital provides and be able to offer more complete information about our products and services to our customers."
Castle Classic Roofing is committed to using only the highest quality roofing products and materials from the top manufacturers, installed professionally and efficiently by their trained and experienced roofing crews.
About the company:
Castle Classic Roofing provides high quality roof replacement, gutter repair and emergency storm damage repair service that is completed with honesty, integrity and quality workmanship. For complete information about all Castle Classic Roofing services, visit their new website at http://www.castleclassicroofingcodfw.com or call (817) 523-8703 for a roofing assessment.