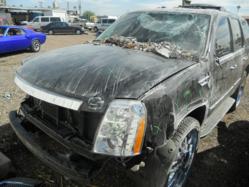 It may only take three seconds to check a text, but it also only takes three seconds for a car to put on their brakes and stop abruptly in front of you.
Phoenix, AZ (PRWEB) October 16, 2012
Dan Deary, owner of Capitol Collision Repair, a well-known [auto body shop in Phoenix, publishes a letter his daughter, Heidi, wrote. Heidi, a high school senior, wrote the following letter to Phoenix teens to warn them about the dangers of texting while driving:
Because I don't drive, I usually make my parents be my taxi. I am shuttled to wherever I want to go, and instead of paying attention to the road to make sure I pass my license test, I people watch. We pass by cars and I am always looking at who is driving and what they are doing. Believe me, there is a difference between people watching and being a stalker. I can say that I have noticed people who are trying to be sneaky by putting their phones against the steering wheel and looking up every three seconds to see if the light changed. I have also seen people who are on their phones and miss the light, which results in a symphony of honks. As a teenager who has not yet received her license, I am not sure if I want to drive and put my life in danger.
This generation of people who use and need their phones has become a deadly addiction. The National Highway Traffic Safety Administration (NHTSA) reported nearly 10% of all fatal crashes in 2010 were because of distracted driving. As a phone user, I know that phones have become a vital part of Americans' lives, but I feel that they are not as important as using them while we are driving. It may only take three seconds to check a text, but it also only takes three seconds for a car to put on their brakes and stop abruptly in front of you. Driving takes all of your attention to make sure that you are putting your safety and the safety of others as your top priority.
Of the large truck drivers involved in fatal crashes, 5% were found to be distracted, and 9% of those distractions were caused by cellphones. The usage of the cellphone was found in fatal and injury crashes related to 408 deaths. Thirteen percent were because of the drivers being distracted. NHTSA also found 416,000 people were injured in 2009 that involved distracted drivers, while 3,092 were killed where someone was using the behavior of a distracted driver.
As the daughter of a Phoenix auto body shop owner, I have seen my fair share of wrecked cars. Every cracked headlight, bent piece of metal is a symbol of just how easily it is to be distracted. Electronics in this generation have excelled and phones have become bigger and better. The creations of phones in this day in the age will not cease but it is our decision if we want to check that text message or if it can wait until we get to our destination. I believe that no text or phone call carries that much importance. It is very easy to practice good skills while driving and putting your phone in your purse or pocket or putting it on vibrate can be a good start.
About Capitol Collision Repair
Founded in 1988, Capitol Collision Repair is one of the largest independent auto body shops in Phoenix AZ. An A+ rated BBB Company, Capitol Collision Repair provides high quality, guaranteed repairs and is one the highest rated and reviewed Phoenix body shops. They offer I-CAR trained technicians are ASE certified and state of the art equipment and are approved by all the major insurance companies. Rental vehicles and free loaner cars are offered by Capitol Collision Repair
Free estimates are available by calling (602) 253-1630 to make an appointment.
Capitol Collision Repair
5154 N 27th Avenue
Phoenix, AZ 85017
Phone: (602) 253-1630
Email: info(at)capitolcollision(dot)net
Fax: (602) 253-6158
http://www.capitolcollision.net
Facebook: https://www.facebook.com/capitol.collison
Hours of Operation
Monday – Friday: 8:00 AM – 5:00 PM