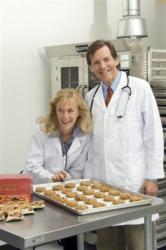 Each Omega Cookie contains two grams of EPA and DHA, as well as a full-serving of cholesterol-lowering beta-glucan oat fiber.
Venice, FL (PRWEB) October 15, 2012
Why take an expensive prescription medication to lower your triglycerides when you can enjoy a delicious fish oil cookie that does that and more? That's what the founders of Omega3 Innovations want to know.
After years of studies, Doctors Bo Martinsen and Anne-Marie Chalmers of Venice-based Omega3 Innovations created a tasty oat fiber based cookie that contains seven fish oil capsules worth of the vital EPA/DHA omega-3s. The American Heart Association says it takes two or more grams of EPA/DHA [between four and seven capsules of fish oil] daily to lower elevated lipids.
Pronova BioPharma, a major pharmaceutical company, recently announced that its popular prescription drug Omacor/Lovaza has been approved in Japan for the treatment of hypertriglyceridemia – or elevated triglycerides – at a dose of two grams of EPA/DHA per day. The investigational studies show their Omacor/Lovaza to be safe and effective in lowering elevated triglycerides.
But then, each Omega Cookie® also contains two grams of EPA/DHA, as well as a full-serving of cholesterol-lowering beta-glucan oat fiber, which Dr. Martinsen says, "creates a feeling of satiation that also helps manage weight."
"Adding soluble oat fiber to the formulation gives the cookie an additional punch of lowering LDL cholesterol that omega-3 alone is not able to do," he says, "Because the cookies do not contain any trans fats, preservatives or added sugar, they can be eaten for breakfast or as a snack that actually reduce food cravings and improve your overall health."
Early pilot studies on the two-ounce Omega Cookie – which also is gluten free and diabetes-friendly with only 10 grams of sugar and 220 calories – indicate the cookie improves the cardiovascular risk ratio of HDL/ LDL cholesterol in addition to lowering triglycerides, says Dr. Chalmers, who along with her partner/husband has spent 16 years researching omega-3 fish oil.
"The cookie presentation gives an extremely high compliance rate that you won't find with most drugs and capsules," says Dr. Chalmers, who soon plans to launch a dark chocolate-covered version of the cookie.
While it's chock-full of omega-3 fish oil, the patent-pending Omega Cookie, which comes in a variety of flavors, has no fishy taste or smell.
"Who would argue that it's more appealing to eat a cookie than taking capsules, especially when it's great tasting and healthy," she asks.
The other question remains: Why take pills when you can have a cookie?
About Omega3 Innovations:
Founded by Bo Martinsen, M.D., and Anne-Marie Chalmers, M.D. – two physicians who have worked with omega-3 fish oil for more than 16 years – the company offers several varieties of Omega Cookies, Omega Passion chocolates, as well as Omega Cure supplements. Each cookie contains 2000 mg of EPA/DHA, five grams of fiber, 200% of the daily value of vitamin D and 35% of calcium. The company was an innovation winner at the 2010 annual Economic Development Corporation of Sarasota County's Hall of Fame awards and was nominated in this year's young business category. Omega3 Innovations is the first to create a bakery product that contains an effective dose of omega-3 fish oil. For more information, visit http://www.omega3innovations.com.
For more information about this release, please contact:
Anne-Marie Chalmers, M.D., Omega3 Innovations, 941-485-4400 or email her at am(at)omega3innovatins(dot)com