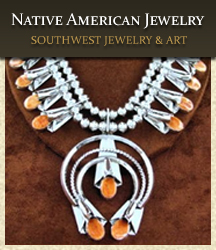 We have this stunning liquid sterling silver necklace that brings beautiful contrast to the dark blues and reds and black colors that a lot of women are wearing this season
Scottsdale, AZ (PRWEB) October 13, 2012
The little known secret trend for this Fall's fashion season is Native American jewelry. From fashion blogs to runway collections, Native American-inspired fashion accessories are proving themselves to be the finishing touch for the perfect Fall outfit.
Online retailer NativeAmericanJewelry.com, which specifically deals in American Indian jewelry, confirms this flourishing movement towards Native American-inspired fashion accessories. "We've seen a huge demand for our Native American jewelry this season," said Steven Onida, spokesperson for NativeAmericanJewelry.com. "Customers are especially interested in our turquoise jewelry and Southwest jewelry."
The striking patterns of turquoise, silver and coral found in Native American jewelry are complimentary to this Fall/Winter's "it" colors. According to MarieClaire.com, navy blue and black as well as burgundy are the colors to wear this season.
"We have this stunning liquid sterling silver necklace that brings beautiful contrast to the dark blues and reds and black colors that a lot of women are wearing this season," Onida said. "Our multicolor and silver inlay pendants are also very popular right now."
Fascination with American Indian culture has created a niche in the fashion world. Designer Marcia Patmos drew the inspiration for her Fall 2012 women's ready-to-wear collection from American Indian matriarchs in the Edward Curtis book The Women, according to Style.com. Elaborating on her inspiration, Patmos told Style.com, "These ladies came across as so modern, with their graphic plaid trading blankets and wooden jewelry."
Tory Burch's Spring 2013 ready-to-wear show at the Mercedes Benz New York Fashion Week was full of Native American-inspired prints and fashion accessories, including necklaces and stitched bags.
Native American jewelry has become a hot commodity for statement jewelry. As the trend for American Indian jewelry continues to grow, retailers like NativeAmericanJewelry.com will continue to bring the hottest styles for Native American Jewelry to fashion enthusiasts everywhere. "We expect the demand for our quality Native American jewelry to be around for quite some time," said Onida.
To see the latest styles in American Indian jewelry, visit NativeAmericanJewelry.com.