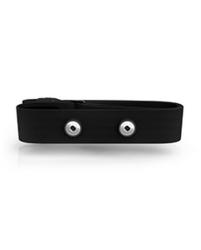 together these differences have made for a substantially better product and the consumer wins
Bozeman, MT (PRWEB) October 19, 2012
The Polar soft strap for Polar heart rate monitors sort of arrived under the radar in the summer of 2012 and has not been talked about much yet according to the Heart Rate Watch Company.
"The new Polar soft strap is exactly the same weight (1.2 ounces) as the old Polar Wearlink strap but the embedded heart rate sensors and fabric make it more comfortable and, in our testing, more reliable than the older Wearlink," says Rusty Squire, President of the Heart Rate Watch Company. "The quality of your chest strap and its fit can make a big difference over a long workout or competition."
The new Polar H2 and H3 transmitters both use the new Polar soft strap. "The new strap is beginning to show up in new Polar products like the Polar RCX3 but it will become the standard in the next year and customers can already buy the strap as a replacement," says Squire.
The embedded rubber coated sensor also offers an added benefit in that it grips better than the old fabric sensors on the Wearlink straps. "These are all very subtle differences", says Squire, adding that, "together these differences have made for a substantially better product and the consumer wins."
Anyone with an existing Wearlink transmitter can use the new strap. "We brought a new Soft strap today to Brandy Stewart, who finished 2nd place in the 2012 Birkebeiner cross-country ski race, and she said it felt better than her Wearlink," says Squire. "We like to know what elite athletes think about all of these products."