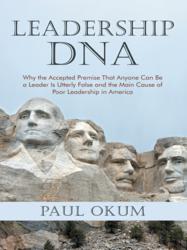 Sarasota, Florida (PRWEB) October 15, 2012
Leaders are born, not made, says Paul Okum.
In his new book, Leadership DNA, Okum provides a call to action for the world of leadership with the hope to dispel the idea that everyone can be a leader. Instead, he displays how individuals with natural-born leadership DNA should be utilized in these positions.
He argues that business and government organizations need to revolutionize how they hire new workers for leadership positions.
"I'm concerned that as a society and as a nation, we are suffering from an epidemic of poor leadership," Okum says.
For a solution, Okum suggests a baseball analogy. He claims that organizations need to use "leadership talent scouts" to find potential workers with innate leadership qualities.
"We must break free from this debilitating belief that leadership can be learned and move in a different direction to identify, select and develop leaders that have the innate leadership talent necessary to be effective leaders," Okum says.
With the educational and personal experiences in leadership, business administration and military management, Okum expertise shines in Leadership DNA.
A hard-hitting look at the world of leadership in today's world, the book aims to provide an eye-opening look at the epidemic of poor leadership.
About the author:
Paul Okum earned a bachelor's degree from Temple University in business administration. He worked forty years, spending time in the military as a U.S. Army officer and in leadership positions with the federal government. He also served as a human resource director within the Department of Defense, and former Vice President Gore recognized his office for outstanding cost-cutting initiatives. Paul is now retired and lives in Florida.
###
**FOR IMMEDIATE RELEASE**
EDITORS: For review copies or interview questions, contact:
Media Specialist: Liesl Kasdorf
lkasdorf(at)bohlsengroup.com | 317.602.7137
(When requesting a review copy, please provide a street address