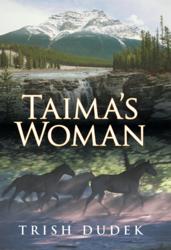 South Wales, New York (PRWEB) October 15, 2012
The Wild West, as Hollywood portrays it, is not accurate.
Trisha Dudek's new novel, Taima's Woman, seeks to reveal the era as it really was.
Dudek's novel shares one young woman's journey through life in the early-nineteenth century. Margaret, with the strength to create her own life independent of society, works with a young Blackfoot warrior, Night Hawk, to domesticate a wild stallion, Taima.
The novel's author loves horses, books and Native American history (she recently learned she has Cherokee in her lineage). This combination led Dudek to write after she retired from 30 years of teaching.
"The story grabs you," Dudek said. "You'll forget dinner, and you'll forget the need to sleep. You'll read until you finish the book."
Taima's Woman reveals the depth of culture and spirituality, along with the realities of the early 1800's.
"I want my readers to absorb the magnificent spiritual heritage of our Native American cultures," Dudek said.
For more information, visit http://trishdudek.com.
Taima's Woman
By Trish Dudek
ISBN: 9781469735702
Approx. 340 pages
Paperback 8.50 (w) x 8.50 (h) x 0.76 (d)
Hardcover: $29.95
Paperback: $19.95
E-book: $3.99
Available at Amazon, Barnes & Noble, iUniverse
About the author
Trish Dudek loves horses, books, and Native American history. This combination led her to write after she retired from teaching. She has published several children's stories. On their farm, in her husband's memory, Trish continues to operate Rivendell ReCreation Center, a not-for-profit therapeutic riding facility for children and adults in South Wales, New York. A portion of book sales will be donated to Rivendell. Contact Trish through http://www.rivendellrec.org.
# # #
**FOR IMMEDIATE RELEASE**
EDITORS: For review copies or interview requests, contact:
Liesl Kasdorf
Phone: 317-602-7137
Email: lkasdorf(at)bohlsengroup.com
(When requesting a review copy, please provide a street address.)