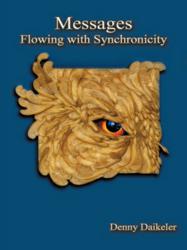 Philadelphia, Pennsylvania (PRWEB) October 15, 2012
Extreme home makeover, or extreme soul makeover?
As an in-demand interior designer, Denny Daikeler found herself dismayed by adherence to trends, and by a lack of client-designer collaboration. She found that by listening carefully to her clients, the design process became easier. Naturally, more powerful aesthetics would emerge. She developed the concept of the "inner blueprint" assuming that there were all the preferences, styles, needs imbedded deep within her client. Her job was to surface and assist in the home's transformation.
Choosing to attend seminary to enhance her work in design, Daikeler found her lens for design extended and even became an introspective lens that enabled her to notice and connect the "synchronicities" of her daily life and seriously affect the way she would design her life! The revelations were formed into chapters for her new book, MESSAGES: Flowing With Synchronicity.
This small volume is filled with stories, all true, that guided her awareness through wondrous phenomena and introduced to her an appreciation for the purposefulness of life and a new way of being. For Daikeler, it was truly stumbling upon an awe-inspiring message: "We all are one, all connected, mirrors for each other."
Each chapter of MESSAGES is followed by one or two relevant exercises creating a wonderful guidebook for the reader.
By: Denny Daikeler
ISBN: 978-1-4525-4323-9
Paperback: $11.95
Available at amazon.com, barnesandnoble.com and balboapress.com.
About the author
A notable figure in the world of interior design, Denny Daikeler is an alumna of Drexel University. She has presented at many conferences including the American Society of Interior Designers' national conference . Teaching the inner blueprint concept to design students, Daikeler pooled all of her knowledge into a concentrated process, which resulted in her first book, What Color is Your Slipcover? A pioneer of the home makeover, Daikeler had a segment on AM Philadelphia for over four years and has been featured in Cosmopolitan, Philadelphia Magazine, The Wall Street Journal, Town and Country to mention a few. She has been featured on the Home & Garden as well as Discovery Channel. Additionally, Daikeler is an interfaith minister, having graduated from the School of Sacred Ministries, an interfaith seminary, in 2001. A member of the Pebble Hill Interfaith Church, as well as a founding board member of Common Ground Fellowship in Philadelphia, and Alex and Allyson Grey's COSM, Daikeler is a prominent voice in both the design and spiritual media . She is the proud mother of Carl Daikeler, who is the founder and CEO of Beachbody, which readers will recognize as one of the Top 4 infomercials on national television. She has two other children, as well as seven grandchildren and currently continues her multiple roles as interior designer, interfaith minister, workshop facilitator, author, and dancer.
# # #
**FOR IMMEDIATE RELEASE**
EDITORS: For review copies or interview requests, contact:
Liesl Kasdorf, Publicist
317-602-7137 | lkasdorf(at)bohlsengroup.com
(When requesting a review copy, please provide a street address.)