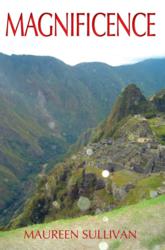 Richmond, Virginia (PRWEB) October 15, 2012
One person's actions can create a ripple effect that extends around the globe, especially when those actions are negative. How can this be stopped? Healing and alchemy practitioner Maureen Sullivan teaches readers to release fear and embrace positivity in Magnificence.
Based on life experiences, Magnificence uses fictional characters to present true life lessons that enable the reader to progress on their spiritual path. The fictional adventure incorporates mystical facts into the time-traveling journey of three friends who venture to the ancient civilization of the Incas in Peru.
"The book explains complicated teachings in a concise manner," Sullivan said. "It's full of teaching and wisdom as an adventure story and not a self-help book, which makes it more enjoyable."
During this transformational journey, Sullivan's characters discover the key to the awakening of the human consciousness through the release of fear. This metaphysical adventure is for curious minds—from deeply spiritual to non-new age—seeking the adventure of creating a fulfilling, happy and magnificent life and world.
For more information on Sullivan and her book, visit maureenmsullivan.com.
Magnificence
By Maureen Sullivan
Paperback: $15.99
Hardcover: $33.95
eBook: $3.99
ISBN: 978-1-4525-3912-6
Available at: amazon.com, barnesandnoble.com and maureenmsullivan.com
About the author:
Maureen Sullivan is a graphic designer, small business owner and first-time author. Through her travels as an artist in New York City and spiritual journeys in India and Peru, she found her calling as an energetic healer and teacher. Sullivan is a graduate of the Institute of Healing Arts and Sciences, an active participant in the Mastering Alchemy program, and a Reiki master. A native of Massachusetts, she currently resides in Virginia.
# # #
**FOR IMMEDIATE RELEASE**
EDITORS: For review copies or interview requests, contact:
Publicist: Liesl Kasdorf
lkasdorf(at)bohlsengroup.com| 317.602.7137
(When requesting a review copy, please provide a street address.)