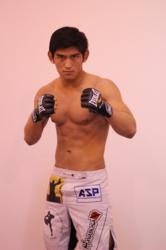 I have invested in my hands, and I am ready to see the results.
Elkridge, Maryland (PRWEB) October 13, 2012
Making his promotional debut at CFFC, Aung La N Sang (a Kachin Refugee from Myanmar) is an exciting fighter from Maryland with all 15 wins coming by the way of knock out or submission. On Saturday October 13 at Dower Downs, he will face a Miletich Fighter and a six year Pro MMA fighter, Jason Louck.
The two welterweights have a combined experience of 49 fights and have both been fighting professionally for over five years. Aung La N Sang (15-8) who is fresh off a win at Bellator Fighting Championship by the way of TKO, faces Jason Louck (16-9) who is coming off a loss to UFC vet Ryan Jensen.
The immigrant from Myanmar last competed at the Boston International Open, an IBJJF tournament, on Aug 25. The Crazy 88 BJJ purple belt took silver in his 195 lb division and bronze in the purple belt open weight class. "I grapple with BJJ world medalists at Crazy 88 every day, so if we hit the mat I am confident." The confident 27 year old also said "I've also been working extensively on my boxing, I have invested in my hands, and I am ready to see the results."
Aung La N Sang is fighting for a cause that is close to his heart. On Oct 13, a portion of his prize money along with the ticket sale will be used to help the refugee in his war thorn state of Kachin. This is in hope to help the 70,000 internally displaced refugees.
Also on Oct 13, Crazy 88 teammate, Jon Delbrugge (6-0) makes his professional debut at Operation Octagon, in Sterling, Virginia. "I don't want to say that, 'I have never felt better' but I feel like I always feel. Ready!" Said the undefeated fighter. The team will split to support both fighters as one goes north to Delaware, while the other heads South to Virginia.
Aside from producing some of the premiere MMA fighters in the state of Maryland, Crazy 88 BJJ is renown in the International Brazillian Jiu Jitsu circuit. The 15,000 square feet Elkridge based MMA facility is a Lloyd Irvin affiliate run by Julius Park. In business since 2005, the family friendly school is transforming local Marylanders, both young and old, into Champions and contenders at international level in BJJ and MMA.