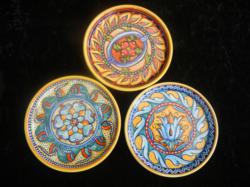 Gioia Company offers both personal and professional gifts for your enjoyment
Los Gatos, CA (PRWEB) October 15, 2012
For years, Gioia Company Italian Art And Products in Los Gatos, CA, has been the place to go for artisan Italian gifts and Italian jewelry. To help shoppers begin their holiday shopping, Gioia is offering a 25 percent discount on all of the gift ideas available on its website and showroom by appointment.
The staff at Gioia Italian Art And Products understands that it can be difficult finding the perfect gifts for friends and family. To help take the stress out of holiday shopping, the store is offering a deep discount on its entire inventory. By making everything a little more affordable, the store hopes to help holiday shoppers give gifts the recipients will remember forever without breaking the bank.
The 25 percent discount applies to everything in the store, making its expansive inventory that much more appealing to shoppers. Gioia Company Italian Art And Products carries a wide selection of fine art and hand crafted gifts for any occasion. This selection includes a variety of award winning olive oils, beautiful Murano glass jewelry, inlaid wood coasters, and much more. All of the items found in the store were hand made in Italy or the US by loving craftsman, and their dedication shows.
Gioia Company Italian Art And Products also carries a number of holiday-themed gifts, such as linens and wine bottle decor that can add a touch of beauty to any holiday meal. Gift ideas also include a number of fine art pieces ranging from acrylic and oil paintings to fine wood art, and everything is meticulously wrapped with style and care.
The 25 percent discount is available both online and in store. To redeem the offer, customers need only mention SFGate. The promotion lasts through the end of November, giving shoppers plenty of time to find the right gifts.
Gioia Company Italian Art works directly with dedicated Italian Artisans to bring the finest Italian gifts and custom artworks in the Italian Tradition. These Italian Heritage Art pieces make unusual gifts for weddings, birthdays, anniversaries or other special occasions. The unique Italian treasures will remind one of the sights, smells and experiences of Italy over and over again. Each piece is professionally wrapped and carefully shipped to any destination of choose. The Gioia Italian Gifts Online shopping experience is available at select Italian Festivals, wineries, fine art galleries, and online at http://www.gioiacompany.com.