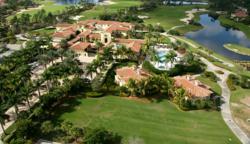 The new model homes for sale in Palm Beach Gardens are sure to boost sales at Old Palm Golf Club, which had a strong September.
JUPITER, Fla. (PRWEB) October 15, 2012
The Old Palm Golf Club estates for sale in Palm Beach Gardens are more appealing than ever, as four magnificent new floorplans come to life in the community.
From now until the end of 2012, finishing touches will be added to a handful of homes in the neighborhoods of Golf Estates and Grand Estates. The British Colonial-style Martinique is a product of Mustapick Estate Homes and offers a single-story structure that spans more than 3,400 square feet and has three bedrooms and three-and-a-half bathrooms, as well as a two-and-a-half-car garage. The total living space exceeds 4,200 square feet.
Also in Golf Estates, homebuyers now have the choice of the Poinciana II, which is a creation of Courchene Development Corp. Poinciana II is a 3,409-square-foot, one-story floorplan that includes an impressive great room. The light-filled interior opens to the kitchen and offers sweeping golf-course views through the covered veranda.
A pair of model homes by Courchene Development Corp. also are rising in the Grand Estates neighborhood. The Bentley model offers four bedrooms and five-and-a-half bathrooms under 5,837-square feet of elegant living space. The Bentley enjoys a home theater with tiered seating and a wine room lined with glass that is visible from both the living and dining rooms.
Grand Estates' Royalton lives up to its name at 6,855 square feet under two stunning stories of space. The five-bedroom, six-bathroom home features a den, a playroom and two half-baths.
Martinique and Poinciana II in Golf Estates will complement the subdivision's other home styles, which include Poinciana, Royal Poinciana, Esplanade, Chesterfield, Flagler, Marseilles, Monaco, Marbella, Maison and Mayfair. Similarly, Bentley and the Royalton will complement Aviation, Castillo II, El Solano II and Ashford.
The new model homes for sale in Palm Beach Gardens are sure to boost sales at Old Palm Golf Club, which had a strong September. Going into October, two homes in Golf Estates were under contract, and two more were reserved in Grand Estates.
The Golf Estates contracts were written for the Royal Poinciana floorplan and the Castillo II design. Royal Poinciana features a flowing fountain in front of the four-bedroom, five-and-a-half-bathroom estate that covers 3,951 square feet. The covered loggia outside – a great place for entertaining – is one of the home's featured selling points. Inside are soaring ceilings and custom woodwork. Courchene Development Corp. built the model.
The second transaction that will take place is on the Castillo II, a Hasey Construction-built home in Grand Estates. Castillo II offers a split floorplan in a single-story, four-bedroom, five-and-a-half bathroom home with an addition two half-baths. It is 5,665 square feet in size.
The reservations on two sites of Palm Beach Gardens real estate are in the neighborhood of Grand Estates on Calleta Court.
Waterfront Properties and Club Communities sales agents specialize in Old Palm Golf Club real estate and can assist buyers in finding a home that suits their needs. Old Palm Golf Club is in the heart of Palm Beach Gardens and is close to shopping, dining and entertainment.
For information, call Michael Bellemeur or Cris Tamasi at 561-746-7272.