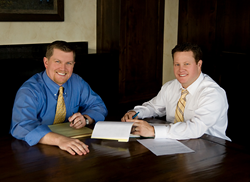 Ample uninsured/underinsured motorist insurance coverage (UM/UIM) could be the difference between financial security and financial ruin
Salt Lake City, UT (PRWEB) October 12, 2012
The motorcycle accident lawyers at Christensen & Hymas recently recovered $200,000 in an out-of-court settlement against both American National Property Insurance and Foremost Insurance Group for a man who was injured when a motorist made an illegal U-turn directly in front of the man's motorcycle, cutting off his direction of travel. Utah personal injury attorney Russ Hymas urges all bikers to obtain ample UIM insurance coverage.
The police report cites that Christensen & Hymas' client was riding his Harley-Davidson on Utah SR-89 when the accident occurred. A woman had pulled off to the right side of the highway, preparing herself for a U-turn. Unfortunately for the motorcyclist, the motorist did not see him and proceeded with the U-turn, directly cutting off the direction of travel of the motorcyclist. According to the police report, the U-turn the motorist made was illegal.
Russ Hymas said, "Being forced to lay down his motorcycle, due to the impending impact with the car, the client suffered significant injuries including deep lacerations to his shoulder, back, legs, and arms. The medical report confirms that the injuries to his shoulder necessitated surgery and will need at least one more operation in the near future."
According to the Centers for Disease Control and Prevention, between 2001 and 2008, there were more than 34,000 motorcyclists who were killed and approximately 1,222,000 people treated in U.S. emergency departments for non-fatal motorcycle-related injuries.
Hymas continued, "The numerous fatalities and injuries associated with motorcycle accidents suggest to any serious rider that obtaining sufficient motorcycle insurance coverage is essential to protect one's personal and familial financial security from the possible overwhelming medical bills incurred from a terrible accident."
"Ample uninsured/underinsured motorist insurance coverage (UM/UIM) could be the difference between financial security and financial ruin if you or a family member gets into a car or motorcycle accident," says Hymas. "The least dollar amount of coverage offered is $25,000, which often ends up being the choice made by working families. Unfortunately, if you get into a car or motorcycle accident and your medical bills amount to $50,000, then you will be left to fit the bill. Don't allow this to happen to you and your family; speak with an attorney today in order to better understand how to protect your family."
About: Christensen & Hymas, Personal Injury Attorney Utah
Christensen & Hymas represents personal injury victims throughout the state of Utah, offering their services to those injured in a car accident, cycling accident, dog bite attack, etc., as well those who have lost a loved one in an accident and are in need of a wrongful death attorney. Their track record of success is matched by their commitment to professional and compassionate legal services, living by their motto of 'Service with Compassion and Integrity When You've Been Injured.'
For a free consultation with a motorcycle accident lawyer, call Christensen & Hymas today at (801) 506-0800 or visit their website at http://www.utahpersonalinjurylawfirm.com/.
Christensen & Hymas:
Main Office -- 11693 S. 700 E. Ste. 100, Draper, UT 84020 -- (801) 506-0800 -- Fax: (801) 506-0801
Utah County Office -- 584 S State Street, Orem, UT 84058 -- (801) 224-2999
Davis County Office -- 503 West 2600 South #200, Bountiful, UT 84010 -- (801) 294-9500