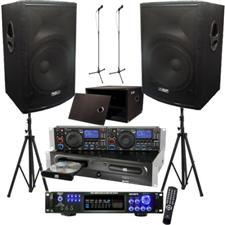 Los Angeles, CA (PRWEB) October 14, 2012
KTS Karaoke and has introduced the exclusive and new range of audio equipment and accessories which are not just one step ahead of professional karaoke equipment but belong to the class of its own.KTS Karaoke is a well-known name in the industry of high digital quality karaoke system as well as superior quality music and TV themes.
The promising and new range of Karaoke Systems and equipment listed at KTS Karaoke includes All-In-One Karaoke Systems, Magic Microphones, Accessories / Cables, Mixing Amplifier, DJ Lighting, Mixers, Karaoke Players, Microphones, Speakers, Stands, Tablet PC, TV / LCD, and On Sale Items.
The Karaoke Systems consist of a mixing amplifier, 1-2 microphones, a karaoke player and speakers. There are separate home applications of professional karaoke systems with 200W-600W of power. For karaoke bars or household rooms, 400W-600W karaoke systems are available. In case of the larger venues there is a minimum of 600W sets available too. There is exclusive range of options available when you buy Karaoke Machine.
Some of the exclusive and newly introduced home and club karaoke and bar systems include 360W Powerful In-Home Complete Karaoke System /w 2 Wireless Microphones, Vocopro CLUB-MAN Professional KJ System / w 2 Dual CDG Players, IDOLpro THUNDER-400 400W Complete Professional Portable Rack Karaoke System on Wheels, 400W Bar/Home Karaoke System /w HDMI & 2 Rechargeable Microphones, IDOLpro Ultimate Complete Professional Karaoke System II, 400W Home Recording Karaoke System /w CD Ripping & USB/SD Recording, IDOLpro 600W Professional KJ Karaoke System / w 5 Tray Player, Vocopro CLUB-MAN PRO 400W Portable Complete KJ System, Vocopro PASSAGE-3000 Professional Recording Studio System, IDOLpro 600W Professional Bar/KJ Karaoke System /w Multi-Frequency Microphones, IDOLpro 1200W Professional Recording DJ/KJ Karaoke System with Multi-Frequency Microphones, IDOLpro 600W Karaoke System / 6 Band Equlizer& Infrared Scanning Microphones, IDOLpro Professional Karaoke Club System /w CAVS Player & 4 High Fidelity Speakers, IDOLpro 600W Karaoke Jockey's #1 Picked Karaoke System /w RSQ HD-787 Recording, IDOLpro 600W Chinese Karaoke songs with Hard Drive Karaoke System and many more.
At KTS Karaoke, the technical support team is available round the clock to answer any customer query or bring the best and quality music and entertainment.
The Customer Service Representatives is at the service from Monday-Friday from 8:00 AM to 6:00 PM PST to book the orders by phone or for helping with any kind of problems or concerns related to audio equipment or accessories. More additional information or to purchase the new range of karaoke equipment and accessories visit http://www.ktskaraoke.com/