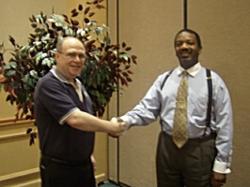 Raleigh, NC (PRWEB) October 14, 2012
"One of the reasons people enjoy coming to a Search Engine Academy Workshop, is because they get personalized, one-on-one instruction along with hands-on exercises to teach them step-by-step, all the skills they need to benefit from top visibility to the most correct audiences," stated John Alexander about the upcoming 3 Day Advanced Workshop. "Once the student has been instructed then we want to give them some drilling and ensure they have it right," he continued. Students given daily progress evaluations and so p[rogress is benchmarked each and every day along with time given to answer every student's question.
Alexander said,"Along with day by day instruction and exercices, the students are given copies of each presentation slide, so they can make their own notes and references and we give each participant a personalized Web site review along with a written priority action plan so they can prioritize their work."
On the final day, each student gets a certification exam and is required to earn a 76% average to pass the exam.
In conclusion, Alexander explained, "Even once the workshop is concluded, each student gets an ongoing 6 Month Mentoring program at no extra cost, so they can get ongoing support with their trainer."
Check this page for registration information to the October 31- Nov. 2 - 3 Day Advanced SEO Workshop.