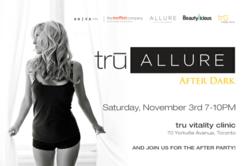 Nature gives you the face you have at twenty, it is up to you to merit the face you have at fifty

Coco Chanel
Yorkville, Toronto ON (PRWEB) October 15, 2012
Join Tru Vitality Clinic and ALLURE Hair & Makeup on November 3rd (7-10 pm @ 70 Yorkville Ave) as they celebrate authentic beauty in trendy Yorkville with a Beautylicious wrap-up party.
DRIVE films will capture 3 authentically beautiful women sharing their stories as guests are spoiled with incredible wine, food, gifts and prizes worth over $5000.
Bring a friend as TRU - ALLURE broadcast live around the world with host & social media sensation Sean Moffett @TheSeanMoffett & then continue at the after party.
Beauty is unique, let's keep it that way.