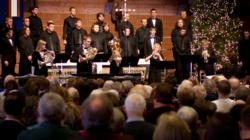 Seward, Neb. (PRWEB) October 19, 2012
Concordia University, Nebraska will host its annual Christmas at Concordia concerts Dec. 7-9. Performances will be Friday, Dec. 7, at 7 p.m., Saturday, Dec. 8, at 3 and 7 p.m., and Sunday, Dec. 9, at 3 p.m., at St. John Lutheran Church in Seward. All concerts are open to the public free of charge, but tickets are required.
Multiple ensembles from the music department at Concordia will take part in sharing the Christmas message. The four concerts will feature the University A Cappella Choir, the University Symphonic Band, Male Chorus, Handbell Choir, Women's Chorale and the University Brass Ensemble. The groups will perform traditional hymns of the season and invite audience participation throughout the concerts. Scripture readings and original music from Concordia students and faculty also will be part of the celebration.
On Saturday, Dec. 8, a holiday buffet-style meal will be served from 4:30-6:30 p.m.in the Janzow Campus Center. Pre-paid tickets are $15 for adults, $9 for kids age 8-12, and free for kids age 3 and under. Tickets may be purchased online at cune.edu/Christmas, beginning Nov. 1. Holiday meal tickets will be available at the door at a higher price.
An additional concert was added to the slate of Christmas at Concordia performances this year to better accommodate demand. In recent years all tickets have been reserved within a few days of becoming available. The required tickets will be available at cune.edu/Christmas beginning Nov. 1. Receipts printed from the website will serve as tickets.
Christmas at Concordia is made possible through the generous support of Jones National Bank & Trust Co.
Concordia University, Nebraska, founded in 1894, is a fully accredited, coeducational university located in Seward, Neb. that currently serves over 2,200 students. Concordia offers more than 50 professional and liberal arts programs in an excellent academic and Christ-centered community that equips men and women for lives of learning, service and leadership in the church and world. For more information, visit cune.edu.