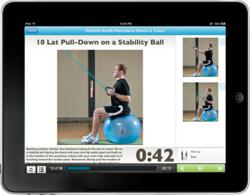 Boston MA (PRWEB) October 16, 2012
Harvard Health Publications, a division of Harvard Medical School, today announced a collaboration with Skimble, creator of the top-downloaded Workout Trainer app for Android and Apple iOS platforms. Skimble's Workout Trainer, which provides multimedia workouts led by expert coaches, has been downloaded more than 7 million times. The app helps users achieve specific goals – weight loss, strength, agility, better abs, and the like – using workouts that can be customized to fit a busy schedule.
The free Workout Trainer app provides in-app purchases of enhanced features and program functionality. The Harvard Health Gym Coach is the newest program. It features workouts from Harvard Health Publication's Workout Workbook. Created by Harvard Medical School doctors working with fitness trainers, the Workout Workbook provides a safe, expert workout regimen that can be modified for users with varying fitness levels. Harvard Health Gym Coach workouts feature audio coaching soundtracks, timing cues, motivational messages, and reminders with customizable schedules.
The Harvard Health Gym Coach is offered at an introductory price of $14.99, which is a one-time in-app purchase in the free Workout Trainer app. Users of the Harvard Health Gym Coach can complete the 3-week program with multimedia coaching as many times as they'd like.
According to Skimble co-founder Maria Ly, "Harvard Medical School knows health information. You know it's thorough and trustworthy. We are delighted to offer their doctor-approved workouts to our community members."
The Harvard Health Gym Coach includes warm-up and cool-down routines plus nine different workouts:
1. Home and travel workout
2. Resistance band and tube workout
3. Ball workout
4. Mixed workout: BOSU ball, weights, and medicine ball
5. Core workout
6. Split strength workout: lower body
7. Split strength workout: upper body
8. Power challenge workout
9. Complex challenge workout
"We have been creating empowering, authoritative health information since 1975," said Ed Coburn, Director of Harvard Health Publications. "Teaming up with Skimble lets us make this workout information available in a widely-used, convenient, and portable platform to the millions who have already downloaded Skimble's Workout Trainer."
To learn more about Skimble's Workout Trainer, go to http://www.skimble.com or http://www.health.harvard.edu, or look for the Workout Trainer in the App Store or Google Play.