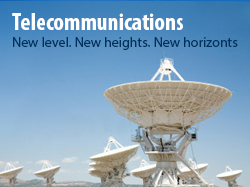 10 years experience in software outsourcing for Telecommunications Industry and IT Infrastructure Management
Waterford, Rep. of Ireland. (PRWEB) October 15, 2012
Computer networks are growing at a tremendous rate. The implication of this increase is the pressing need for efficient management and monitoring of IT infrastructure assets. Elinext Group, being a long-term, trusted partner to a number of globally operating IT companies from the USA and Europe, is putting greater emphasis on serving businesses engaged in telecommunications.
"For more than ten years we have accumulated a great deal of expertise and in-depth knowledge in customizing enterprise hardware monitoring solutions and developing data integration modules for IT infrastructure management systems," said Alexey Trigolos, IT Services Director.
Elinext Group's developers have created around fifteen integration modules for software products of Cisco, HP, Ciena, Alcatel and more used by telecommunications companies. It goes about complex real-time network monitoring solutions that gather data regarding performance and availability of hardware via the SNMP (Simple Network Management Protocol). Keeping up-to-date with the status of systems and its components is extremely important for maximizing efficiency and avoidance of faults.
"At Elinext Group, we actually help end-customers in the telecommunications industry eliminate infrastructure bottlenecks and boost performance. Moreover, proactive diagnostics and troubleshooting with speedy analytics and reporting help resolve a wide range of problems long before they affect hardware units and, ultimately, business processes," proceeded Alexey Trigolos.
Telecommunications companies can extract much more from their IT environments thanks to powerful enterprise infrastructure management solutions, while their customization allows to meet the specific operational requirements of a separate organization.
For more information, please visit: http://www.elinext.com/telecommunications-industry
Check out our Case Study: http://www.elinext.com/it-infrastructure-management-software
About Elinext Group
Elinext Group is a global supplier of software solutions and IT consulting services for a wide array of industries, including advertising, banking, e-commerce, finance, healthcare, hospitality, real estate, retail, tourism, telecommunications and others. Elinext Group's companies specialize in custom software development, mobile development, web development, TV app development and game development.