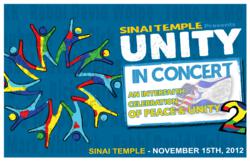 Los Angeles, California (PRWEB) October 14, 2012
The Israel Center at Sinai Temple, the oldest and largest conservative Jewish temple in Southern California, will bring together the community for of an evening of song, dance and spoken word on November 15th in a multi-faith celebration of Israel and the fundamental value of freedom. Unity in Concert will bring together religious and community leaders as well as internationally renowned musicians from the Jewish, Muslim and Christian faiths.
The 90-minute-long Unity in Concert, which will begin at 7:30 p.m., is intended to build even stronger bridges of cultural and religious exchange. Hosted by Sinai Temple's Rabbi David Wolpe (recently named the "No. 1 rabbi in America" by Newsweek magazine), this celebratory evening will also feature performances by:

Multi-platinum Israeli singer/songwriter and guitarist David Broza.
Palestinian actress, singer and songwriter Mira Awad.
Aviva Desse, young Ethiopian Israeli singer representing Ariel U.S.
Popular Jewish singer/songwriter Craig Taubman.
Josh Nelson, multi-instrumentalist and performer of Jewish music.
Superstar, Neshama Carlebach, continuing the legacy of her father Rabbi Shlomo Carlebach
Poet and Spoken word artist, Andrew Lustig
Additionally, there will be inspiring presentations by Rev. Cecil Murray of the First African Methodist Episcopal Church and the world-renowned
COR- AME Choir.
"We are thrilled to present the 2nd Unity in Concert," Rabbi Wolpe said. "This unique gathering brings the people of Southern California together to celebrate the values we cherish -- Israel, peace and unity."
The program will be produced by Craig Taubman of Craig 'n' Company, recognized nationally as one of the leading innovators of modern Jewish music, benefiting Ariela U.S. an organization which works to create true, sustainable social and economic change within the Ethiopian Jewish community in Israel.
For sponsorship and information please contact Leah Bleiweis at 1000 Skies PR at (310) 903-1355 or leah(at)1000skiespr(dot)com or visit: http://www.unityinconcert.com .