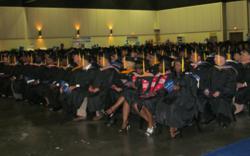 Orange Beach, Ala. (PRWEB) October 12, 2012
Approximately 3,000 graduates and guests are expected to arrive to Orange Beach, Ala., for the Columbia Southern University (CSU) commencement ceremonies Friday, Oct. 19 at The Orange Beach Event Center at the Wharf.
Graduates of the online university, who hail from 40 states and several countries, are scheduled to attend the event which will feature two ceremonies. The morning ceremony begins at 9 a.m. and the afternoon ceremony will follow at 2 p.m. This year's keynote speaker will be Andy Andrews, author of the New York Times bestselling "The Traveler's Gift" and "The Noticer."
"The CSU commencements are always exciting events. They are unique in that our students are online and the events over the coming days are often the first time they get to meet face-to-face the faculty and staff they have worked with over the past years," said Robert Mayes, CSU president. "It is an honor for us to meet them, their families, and hear their stories and goals."
Graduates and their guests are invited to attend an open house from 10 a.m. to 5 p.m. on Thursday, Oct. 18, to meet faculty and staff and view the university's facility in Orange Beach. Group tours will be given and attendees can purchase CSU paraphernalia and learn more about the alumni association.
"We are so delighted that more than 500 graduates are traveling here to share their achievement and connect with the friendly staff and faculty of CSU," said lead organizer Cecile Nelson, director of the university's Special Programs department. She added that this year, CSU has a 28 percent increase in graduates registered to attend.
"We are growing each year and it's fantastic. Our graduates and their guests will enjoy Andy Andrews, the alumni reception and this great opportunity to network and share their CSU experience with classmates."
CSU is one of the nation's earliest online universities, developed to make educational opportunities more accessible for working adults. With an active enrollment of nearly 30,000, CSU offers numerous online degree and certificate programs in a variety of popular fields such as fire science, criminal justice, business administration, information technology, human resource management and occupational safety and health.
To learn more about CSU's commencement, visit us at http://www.ColumbiaSouthern.edu/graduation.