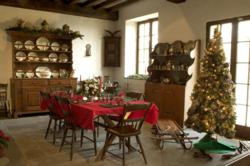 Wilmington, Delaware (PRWEB) October 14, 2012
November and December 2012 – Hagley Museum and Library celebrates the season by sharing a Christmas exhibit and family activities with our community and giving children fourteen and under free admission during the Christmas season. Our theme is holiday entertaining at home. We welcome you to visit "Christmas at Hagley," open Friday, November 23, 2012, through Sunday, January 6, 2013 (closed on December 25). The holiday display is included in the cost of admission and free for members. Hagley, located in the beautiful Brandywine Valley is where the du Pont story begins, and features the original du Pont mills, estate, and gardens.
"Christmas at Hagley" Exhibit in Eleutherian Mills
Glimpse nineteenth- and early twentieth-century holiday entertaining in Eleutherian Mills, the du Pont family ancestral home. The morning room is ready for the New Year's Day Calling, originally a tradition in which men visited ladies with whom they were acquainted, enjoyed some refreshment, dropped off a calling card, and wished their host a happy New Year before moving on to the next house. Another annual holiday, Twelfth Night, called "le Jour des Rois" in France, was celebrated by the du Pont family and the dining room is beautifully set with an elaborate dessert service for the delicious Twelfth Night sweets. Downstairs, the charming terrace room is festively decorated for an afternoon Christmas lunch. The first bus leaves for the exhibit at 10 a.m. and the last bus at 3:30 p.m.
Family Christmas Activities
Hagley's Workers' Hill will be buzzing with fun for visitors. Like the nineteenth-century families who lived on Workers' Hill, visitors can enjoy making Victorian Christmas paper decorations and ornaments, taste holiday cookies, admire the "Dear Old Tree," and experience family Christmas traditions. These activities are offered 11 a.m. to 4 p.m. on November 23 through 25, weekends in December (1, 2, 8, 9, 15, 16, 22, 23), Christmas Eve (24), and December 26 through January 1, 2013. Programs are included in the cost of admission.
The Spirit of Christmas at Home
In the spirit of the du Pont family who founded the black powder mills along the Brandywine, Hagley Museum and Library is committed to giving back to our community.
Hagley encourages visitors to bring a new, unwrapped toy, game, book, or clothing item for children up to fourteen to donate to the Sunday Breakfast Mission. Hagley thanks visitors by extending free admission to children fourteen and under from November 23 through Sunday, January 6, 2013.
Belin House Organic Café
The Belin House Organic Café will serve an à la carte brunch menu Saturdays and Sundays, November 24 through January 6. The special holiday brunch menu is à la carte and features made-to-order omelets, pumpkin leek soup, open-faced roasted turkey sandwiches, Maryland crab cakes, warm apple cider, and more. The Belin House Organic Café is self-service with self-seating. The café is open 11 a.m. to 3 p.m. No reservations necessary.
Visitors can guess the local building used by Chef Roy as the model for his gingerbread house, and try to spot all the candy he used.
The Hagley Store
The Hagley Store will be festively decorated and filled with a unique selection of books, gifts, hand-crafted pieces, and children's items for the season. Many of the items featured in the store are made in America. The Hagley store is open seven days a week, 9:30 a.m. to 5:00 p.m.
About Hagley Museum and Library
"Christmas at Hagley" runs from November 23, 2012, through Sunday, January 6, 2013. Hours are 9:30 a.m. to 4:30 p.m. Hagley is closed on Thanksgiving Day, Thursday November 22, and Christmas Day, Tuesday, December 25, 2012.
Admission to the holiday display and entire 235-acre museum is $11 for adults, $9 for students and senior citizens. Children fourteen and under are free from November 23 through January 6, 2013.
The museum is located on Route 141 in Wilmington, Delaware. GPS Address is 201 Hagley Creek Road, Wilmington, Delaware, 19807.
Hagley Museum and Library collects, preserves, and interprets the unfolding history of American enterprise. Call (302) 658-2400 weekdays for more information or visit http://www.hagley.org.
###
CONTACT: Meg Marcozzi, Marketing Manager
(302) 658-2400, ext. 238
mmarcozzi(at)hagley(dot)org