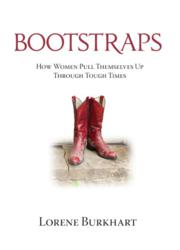 "Trying to slog through the much alone may cause you to lost your boots." Lorene Burkhart, author, Bootstraps: How Women Pull Themselves Up Through Tough Times
Indianapolis, IN (PRWEB) October 16, 2012
Bootstraps: How Women Pull Themselves Up Through Tough Times gives readers compelling real-life stories of 20 women who faced various challenges in life and found strength through faith, family and friends to find the courage to move forward.
Author Lorene Burkhart says she was inspired to capture the stories as she listened to friend after friend over the years share her story. "Everyone faces some kind of challenge during their lifetime, but I kept recognizing the common theme that faith, family and friends helped each of these women pull themselves up by their bootstraps so they could move forward toward a happy successful life."
Each of six book chapters addresses a common adversity theme:

The Happily-Ever-After Myth
Surviving a Husband's Death
No One Plans a Divorce
Single or Not
When Our World Crumbles
What Do You Mean, I Have Cancer?
With the remaining four chapters addressing how these women overcame their adversity. At the end of each chapter Burkhart offers Boot Kickers—gems of wisdom learned from the women's stories.
I wrote this book because I wanted to share the stories of friends and acquaintances who have suffered severe setbacks and, despite the hurdles, not only survived but found new meaning and joy in life," says Burkhart. "Women are resilient and resourceful—much more alike than different. Never for a moment think disasters can't happen. The women who share their stories in this book provide inspiration to anyone going through tough times."
More information on the author Lorene Burkhart and the book can be found at http://www.loreneburkhart.com. The website includes testimonial videos from women featured in the book along with additional information about the author.