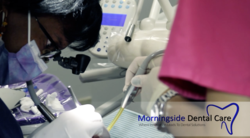 New York, NY (PRWEB) October 14, 2012
Dr. Donna Williams of Morningside Dental Care uses Invisalign to discreetly straighten teeth for those who prefer this method. Clear, plastic trays are fitted to the teeth and gently move the teeth over time. Others looking at a person wearing the trays often do not notice the trays. For people who want straight teeth without a mouth full of metal, visiting a cosmetic dentist such as Dr. Williams may be an excellent alternative.
A patient who wants the procedure must first be evaluated by a cosmetic dentist to see if they are a good candidate, and then x-rays and impressions are taken. These impressions and x-rays are used to create a three dimensional image that gives Dr. Williams the ability to create an individualized treatment plan to move the teeth into place. Customized aligner trays are created for the patient and the process begins.
The trays are designed to be worn 24 hours a day with just a few exceptions. The trays may be taken out when a person eats and when the teeth and trays need to be cleaned. Every two weeks or so, the trays are replaced with a new set of trays that has been slightly altered to help guide teeth into place. The patient also visits the dentist every couple of months to evaluate the results and make adjustments to the treatment plan.
For most patients, the entire procedure takes a year on average, but will vary for each individual. The plastic trays are quite smooth and usually do not cause any irritation in the mouth. For additional information about the Invisalign procedure, visit http://www.nylasergumsurgery.com.
Morningside Dental Care is a general practice offering patients personalized dental care for New York, NY. Dr. Donna Williams started her dental career at Howard University as a Dental Hygienist. She graduated from Baltimore College Dental Surgery/University of Maryland, the first dental school in the world. Throughout her dental school education she received awards and recognition, including maintaining a 4.0 GPA during her initial year, and an award for outstanding research in the Dental Clinical Science Research competition. She completed a fellowship in Holistic dentistry and is one of very few general dentists who have achieved this accomplishment. Having lived in Africa for a year, she returns on a regular basis to volunteer, providing dental service and education to villagers. Dr. Williams is part of one percent of dental professionals providing the most recent FDA cleared laser procedure for gum disease and periodontal treatment. To learn more about Morningside Dental Care and their dental services visit their website at http://www.nylasergumsurgery.com and call (347) 694-4342.