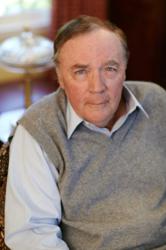 The scholarship program will support students whose success thus far gives promise of extraordinary accomplishment, leadership and service.
RIVERDALE, N.Y. (PRWEB) October 15, 2012
Since the establishment of 16 James Patterson Scholarships was first announced in May, thanks to the generosity of award-winning author and alumnus James Patterson '69, Manhattan College has reviewed the applications of several hundred students. The College is pleased to report that eight juniors and eight seniors from various disciplines were recently selected to receive the scholarships for the 2012-2013 academic year.
Patterson started the scholarship program as a way to recognize and reward the academic achievement and leadership potential of Manhattan students. The 16 recipients were chosen based on merit, need and involvement in activities related to the College's mission, and all exemplify hard work, determination and leadership in the classroom and within the campus community.
The scholarship recipients include:

Giuliana Addesso, junior, secondary education (Yonkers, NY)
Morgan A. Maclearie, junior, special and elementary education (Toms River, NJ)
Claire C. Miksad, junior, elementary education (Ridgefield, CT)
Maria A. Sanzari, junior, special and elementary education (North Haven, CT)
Eric Scattaretico, junior, special and elementary education (Yorktown Heights, NY)
Justin M. Vento, junior, chemical engineering (Lincroft, NJ)
Kathleen P. White, junior, history and peace studies (Keansburg, NJ)
Kathryn E. Wojtkiewicz, junior, philosophy and English (Lancaster, NY)
Walaa K. Abdallah, senior, chemical engineering (Yonkers, NY)
Marianna Belfiore, senior, elementary education (Howard Beach, NY)
Lauren M. Buckheit, senior, allied health (Bayport, NY)
Dimitri E. Mezidor, senior, finance and global business studies (Bridgeport, CT)
Clare E. O'Connell, senior, elementary education (Fairfield, CT)
Jeanette D. Settembre, senior, communication (Yorktown, NY)
Nicole M. Vacca, senior, communication (Bronx, NY)
Colleen E. Walsh, senior, secondary education (Baltimore, MD)
"The scholarship program will support students whose success thus far gives promise of extraordinary accomplishment, leadership and service," Patterson said. "My hope is that this recognition will encourage these talented young men and women to continue their good work, and inspire them to go out after graduation to make a real difference in their communities."
In its first year, the scholarship program will award all 2012-2013 recipients with $5,000 each. During the 2013-2014 academic year, Patterson will increase the scholarships from 16 to 18, and recognize eight juniors and 10 seniors with awards. In addition next year, four of the senior scholarship recipients will be awarded $7,500 each based on essay submissions about their personal contributions made to the College throughout their junior year.
"The students selected as recipients of the new Patterson scholarships are our future leaders," said Brennan O'Donnell, Ph.D., president of Manhattan College. "They are young men and women who are excelling both in their coursework and through their contributions to our community and our mission."
In addition to the James Patterson Scholarships, Patterson currently funds the James Patterson Minority Scholarship at Manhattan, which started in 2006 and has supported the education of 25 students.
Patterson has had 19 consecutive No. 1 novels on "The New York Times" Bestseller List, and holds "The New York Times" and Guinness World Records for most hardcover fiction best-selling titles by a single author (76). His books include the top-selling detective series, "Alex Cross" featuring "Along Came a Spider" and "Kiss the Girls," and the popular "Maximum Ride," "Daniel X" and "Witch & Wizard" series.
As an author, Patterson is passionate about books and encouraging people of all ages to read. In fact, he launched the website ReadKiddoRead.com as a tool for adults to help find books for kids to read. He also rewards groups or individuals who use creative and effective ways to spread the joy of reading with the James Patterson Pageturner Awards, and makes regular donations of thousands of books to troops overseas.
###
About Manhattan College:
Manhattan College is located at West 242nd Street near Broadway in the Riverdale section of the Bronx, one mile from the Westchester County line and accessible by MTA subway line No. 1. For directions to the campus, visit http://www.manhattan.edu.
Founded in 1853, Manhattan College is an independent, Lasallian Catholic, coeducational institution of higher learning offering more than 40 major programs of undergraduate study in the areas of arts, business, education and health, engineering and science, along with continuing and professional studies, and a graduate division. For more information about Manhattan College, visit http://www.manhattan.edu.