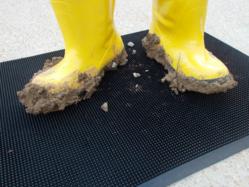 Orange, Calif. (PRWEB) October 16, 2012
WARCO BILTRITE introduces its new FingerTrac Rubber Entrance Mat to keep the outside where it belongs – outside. This highly durable, all-weather performance mat is made proudly in the USA.
"WARCO BILTRITE has spent over 100 years producing extraordinary quality rubber products for industry and the military, and we're very pleased to have a distinctive product to offer customers," said Tim Hemstreet, Vice President of eCommerce and Communication. "The FingerTrac rubber entrance mat is manufactured exclusively at our Ripley, Miss., facility, and it is proof of the great superiority of U.S.-made products."
The sturdy FingerTrac mat design includes thousands of flexible tapered vertical rubber fingers with 3/16" thickness that successfully scrapes soles clean. Don't be fooled by imports, WARCO BILTRITE's durable mat has 30% more fingers and is 70% heavier on average than imported mats. Skid-resistant ribs on the reverse side prevent slipping and allow drainage. The stout mat features beveled edges to trap dirt and other elements and cleans easily with a garden hose.
"This hard-wearing mat is perfect for utility rooms or back doors, where household traffic is the greatest and the muddiest," commented Hemstreet. "Our tough mat will stand the test of time and Mother Nature."
Begun in 1910 as West American Rubber Company, WARCO BILTRITE is "America's choice for quality rubber.™" It stands at the leading edge of rubber technology, with specialized compounds that resist temperature extremes, acids, alkalines, gasoline, oils, greases, fungi, oxidizers, rocket & bio-diesel fuels, and more. WARCO BILTRITE is ISO 9001:2008 certified and committed to research and formulation development. Throughout its 100-year history, its research laboratory has catalogued and tested thousands of formulations to meet military, commercial and industry specifications. WARCO BILTRITE is headquartered in Orange, Calif., and has facilities in Orange and in Ripley, Miss.
Keep the outside where it belongs. Visit WARCO BILTRITE today at warcobiltrite.com, or call toll-free at 877-229-2726 to learn why WARCO BILTRITE is America's Choice for Quality Rubber.