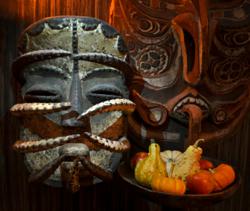 They bring a whole new exotic element to a Halloween theme.
West Hollywood, CA (PRWEB) October 15, 2012
Mention masks and the first thing most people imagine is Halloween staples like Frankenstein, Batman or even Obama and Romney. However, masks have been an important part of social and religious celebrations in many countries for centuries, especially in tribal Africa. Interior Designer Thomas Schoos, who has made cultural diversity a prominent part of his design philosophy, sees Halloween as an opportunity to embrace tribal art by including African masks in both costumes and home décor.
"These dramatic masks can be beautiful or scary, and they bring in a whole new exotic element to a Halloween theme," offers Schoos. "Put them with a sexy, imaginative costume and they will definitely attract attention. Or, they can look great as part of an arrangement on a table or mantle with pumpkins and fall color."
African masks originally served a variety of purposes, both cultural and religious. Some were used to represent spirits of ancestors while others were part of fertility rites. Still others were used to control good or evil forces and, in this context, can be quite frightening. These grotesque designs served a purpose similar to the ancient traditions of Halloween in keeping away evil spirits. Such scary designs are most likely the masks that Americans will associate with Halloween. However, some of the more fun designs featuring amusing animals or fanciful creatures can also add a sense of whimsy to a Halloween event.
In a way, making African masks part of a celebration is more faithful to their original purpose than displaying them formally in a museum or art collection. Westerners began to appreciate and value these cultural artifacts most notably at the beginning of the 20th century when artists like Derain and Picasso started incorporating African images into their work. Serious consideration of African pieces as artistic treasures led to them being presented with a western sense of formality. In Africa, however, masks would have always been accompanied by music and dance and been part of a celebration. Seeing an African mask incorporated into a raucous party would bring the art to life in a way the creators actually intended.
Thomas Schoos has been collecting masks and other artifacts from Africa, Asia and around the world for many years and frequently uses them in his designs for homes, hotels and restaurants. Some of his African collection is available to the public at the Schoos Online Shop. Though more expensive than a typical Halloween mask, these cultural treasures can become a permanent part of a private art collection for display any time of the year. Whether frightening, colorful or whimsical, African masks bring a cultural variety to Halloween and other seasonal celebrations, broadening the appeal and adding artistic interest to any home or commercial environment.
Thomas Schoos is known as designer of some of the most successful hospitality venues in the U.S., ranging from Tao Restaurant and Nightclub at the Venetian Hotel in Las Vegas, which has been the top-grossing restaurant in the U.S. every year since it opened in 2005, to Searsucker in San Diego, voted by Open Table as the second most popular restaurant in the country in 2011. Schoos has partnered with celebrity chefs like Iron Chef Morimoto and Top Chef's Brian Malarkey to design numerous restaurants in many cities, with dozens more planned. Meanwhile, Schoos continues his career as an artist and painter, contributing original works to many of his projects and even incorporating art into their structures and designs. This year, his design for Morimoto Mexico City was named one of two finalists in the Hospitality Design Awards for Fine Dining.
For more information on Schoos products and designs, or to interview Thomas Schoos, please contact our PR department by email at pr (at) schoos (dot) com or by telephone at 323-822-2800. Information is also available on the Schoos Design website at http://www.schoos.com.