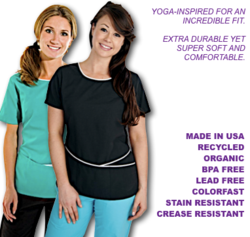 "Healthcare organizations have been overwhelmingly positive toward our sustainable programs due to the bottom line savings they are able to realize," stated Karmyn Heilmann, Director of Sales for Mantrameds.
Denver, CO (PRWEB) October 14, 2012
MANTRAMEDS has developed the line and its fabrics from the ground up and has been testing its designs with RN's and practitioners over the past three years. Knowing every aspect of production has been paramount. "Building strong relationships within the supply chain is the key to great products that are sustainable, and that takes time. We are close to everyone from our fit models (nurses) to our cut n sew operators and organic cotton farmers in West Texas," stated Jerry Wheeler, founder and CEO of Mantrameds. "This dedication is what makes great products and will make us the leader in sustainable, performance driven, yoga inspired, comfortable scrubs."
The MANTRAMEDS team comes from experienced textile, uniform and apparel backgrounds and have been pioneers in the sustainable, organic and recycled textile movement over the past ten years.
"We are excited to be at the URA show this year to speak with retailers and exchange ideas on new trends in sustainable fabric innovations," commented Karmyn Heilmann, director of sales of Mantrameds, "As the race to become "green" escalates in healthcare organizations across the country, we are building our business to fulfill these growing needs."
In addition to showing their new Mantrameds line for 2013, orders will be taken at the show, and attendees will be offered FREE shipping, a FREE Point of purchase displays and a 13% discount depending on the order size. Free shipping is offered for orders placed by Wednesday Oct. 31.
Mantrameds is also available on the widely used Uniform Solution point of sale retail platform.