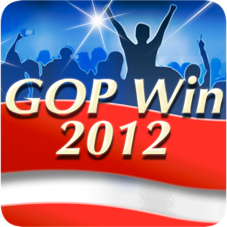 "Great App for Conservatives"
"Excellent, reasoned terse commentary. Worth every penny. I love it! I recommend it highly" from ICNSIDU, GOP Win 2012 user
Emerald Hills, CA (PRWEB) October 16, 2012
U.S. presidential campaign phone app, GOP Win 2012, is now half the price, as we enter the final stretch before the election. App users get election updates, posted daily, not found in the news, blogs or on TV. The five-star rated app offers unique slants, analysis and talking points on a broad range of issues for Republicans, Conservatives and Tea Party members. Additionally, GOP Win 2012 offers over 100 articles written since launch July 4, 2012, all easily accessed from the app archives.
"Our current users tell us they really look forward to beginning their day, reading the two new articles" said Michael Nelson, CEO of Lone Pinnacle, the publishing company that created GOP Win 2012. "Living in the San Francisco Bay Area which is very left-leaning, I was struck by the need to give substance and encouragement to fellow Republicans all over the country: We can win this!"
The app features two new articles, Monday through Friday plus coverage of key statistics. All articles are archived in the app for easy reference. GOP Win 2012 is available on the iPhone and Android, for $.99. The software was developed by Copper Mobile, an enterprise mobile app developer, headquartered in Texas, which has customers such as Cisco, Shopping.com and the U.S. Army.
More information on GOP Win 2012 can be found at http://www.gopwin2012.net.
Lone Pinnacle Inc., was founded in 1997 as a publishing company. It currently focuses on political issues from a Republican perspective.