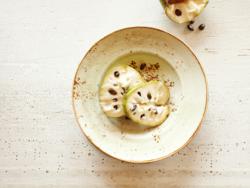 At the recently completed 2012 StarChefs.com International Chefs Congress in New York, Steelite International's new CRAFT dinnerware collection was presented with the 2012 Starchefs.com International Chefs Congress "Tabletop Innovator Award."
New Castle, PA (PRWEB) October 15, 2012
Steelite International, a world leading supplier of tabletop products to the hospitality industry proudly debuts the award winning Craft tableware collection. A Steelite Performance collection, Craft is covered under the Steelite International Lifetime Edge Chip Warranty program.
Recently presented with the 2012 Starchefs.com International Chefs Congress "Tabletop Innovator Award," the all new Craft collection was inspired by hand-crafted, simple country wares made by generations of potters over hundreds of years – While still offering the same exceptional durability Steelite is known for.
The range embodies the beauty of rich, lustrous glazes applied by hand, and celebrates chance effects & reactions which occur naturally in the kiln. The gem-like glazes married to simple forms and shapes produce a unique and individual appearance, giving Craft a rustic "joie de vivre."
Explaining design influence for the new range, Andrew Klimecki, Head of Design and Product Innovation for Steelite International says "We took inspiration from the local area and the simply country wares made by generations of potters. Craft provides a simple but distinctive platform for the chef to display their creative flair and skill."
The 43 piece range is available in four vibrant hues - Blue, Green, Brown and Terracotta. Craft will be featured at the November 11-13 International Hotel, Motel & Restaurant Show in New York City – Steelite International Booth #1907.
About Steelite International
Steelite International is a world leading manufacturer of tableware products designed & developed specifically for the hospitality market. Our core brands, 'Distinction' & 'Performance' are complemented by specialist partner collections including La Tavola, Bormioli Rocco, Pillivuyt, Rene Ozorio, Narumi, Laguiole, Trudeau, Anfora, Crucial Detail, Rona, Roselli Design, and Worthy, Noble & Kent.
Steelite International is continually monitoring, developing and improving its manufacturing procedures to create minimum impact on the community and environment, while ensuring maximum efficiency and cost savings for the future sustainability of the business. Steelite is a member of the Green Organisation, and has been certified to the ISO 14001:2004 Environmental Management Standard (EMS) since the certificates introduction in 1996.