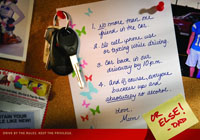 We encourage everyone to talk to their teens about the important responsibility that comes with being behind the wheel of a car. By setting firm rules and guidelines, parents can help their teenage drivers stay safe.
Lincoln, RI (PRWEB) October 15, 2012
On average, seven teenagers die each day as a result of car crashes, according to federal highway statistics. That's why Amica Insurance is sharing some important safety tips for parents and teens for National Teen Driver Safety Week.
According to the National Highway Traffic Safety Administration and the Centers for Disease Control:

Teenage drivers are three times more likely to be involved in fatal car accidents than older drivers. Four of every 10 deaths occur while teens are driving at night.
Teens who drive with two or more passengers are five times more likely to get into a fatal crash than those who drive alone or with one passenger.
Nearly 40 percent of male drivers ages 15 to 20 involved in fatal crashes were speeding at the time, and 25 percent had been drinking.
About a quarter of teens surveyed last year admitted that, within the last month alone, they had ridden in a car with someone who had been drinking.
"Those are frightening statistics, not only for parents but for other motorists on the road," said Shannon O'Brien, an assistant vice president with Amica Insurance. "That's why we urge parents to talk to their teens about the importance of driving safely and setting rules to help protect them, whether they're the driver or the passenger."
NHTSA also encourages parents to establish these firm rules for teen drivers:
1. Absolutely no alcohol
2. Always buckle up (This includes drivers and passengers)
3. No talking or texting on a cell phone while driving
4. Have the car in the driveway by 10 p.m.
5. No more than one passenger in the car at a time
6. Follow house rules or face parental consequences
"We encourage everyone to talk to their teens about the important responsibility that comes with being behind the wheel of a car," O'Brien said. "By setting firm rules and guidelines, parents can help their teenage drivers stay safe."