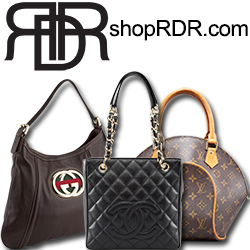 The Birkin bag has become a fashion favorite and an international symbol of wealth.
(PRWEB) October 22, 2012
Whether it is a Chanel quilted leather shoulder bag or a Louis Vuitton clutch; at the heart of every lover of high-end women's fashion lies an affinity for designer handbags. Today, Rodeo Drive Resale (http://www.shoprdr.com), premier seller of 100% authentic Louis Vuitton bags, Chanel purses and Ferragamo shoes, as ShopRDR.com kicks off its designer handbag promotion, the online reseller looks at a few of the world's most popular luxury handbags and the public personalities that inspired their creation.
There have been countless public figures who have inspired fashion, but here are a few shopRDR.com favorites:
1) Sophia Bag By Ferragamo – The first actress of the talkie era to win an Academy Award for a non-English-speaking performance, silver screen star Sophia Loren has starred in countless films, and was the symbol of beauty for an entire generation. Her star power and jaw-dropping beauty would eventually lead way to the Sofia bag by luxury designer by Salvatore Ferragamo. Simple yet fashionable, the bag remains popular among younger stars including Jennifer Aniston and Katie Holmes.
2) The SC By Louis Vuitton – Every luxury bag lover has their preference, but most agree: When it comes to style and status, few brands can match the reputation of this French fashion label. Described by American fashion designer Marc Jacobs as "the epitome of this girl I fantasize of," in a feature story published on NYmag.com, acclaimed director Sofia Coppola became the muse behind Louis Vuitton's aptly named bag, The SC. ShopRDR.com currently has a beautiful Louis Vuitton monogram canvas bag on sale, authenticity guaranteed.
3) The Jackie By Gucci –Exclusive, luxurious and instantly recognizable, Gucci, established in 1921, has become a status symbol for the rich and powerful. According to a story posted at Shine.Yahoo.com, Gucci's Hobo Bag was renamed The Jackie in honor of First Lady Jacqueline Kennedy Onassis and her affinity toward the popular fashion accessory.
4) The Birkin Bag By Hermès – A June 8, 2011 article explains the origin of the Birkin bag: While seated on a flight next to actress Jane Birkin, Hermès chief executive Jean-Louis Dumas observed as Birkin struggled to fit her straw bag into the overhead compartment, only to have the bag's contents fell to the floor. Birkin would later comment on the difficulties in finding a suitable leather weekend bag. In 1984, Dumas crafted a bag specifically for the actress. Years later, the Birkin bag has become a fashion favorite and an international symbol of wealth.
Brand new or pre-owned, designer handbags can become as iconic for their design as for their carrier. It is for this reason shopRDR.com cordially invites luxury lovers to become fashion stars in their own right during its "Any Color … So Long As It's Black," handbag and purse promotion.
While the phrase " … So Long As It's Black" may lead shoppers to believe all items featured will be in black, this is not the case: In addition to Vuitton and Dior, shopRDR.com's promotion also features bags by Chloe, Marc Jacobs, Coach and Michael Kors in an array of colors, sizes and styles.
As the year inches closer toward the holiday season, Raya says searches of these brands will likely increase, with many top designers offering more reasonable prices to buyers hoping to build their luxury collection.
"Expect to see the rise of the brand savvy shopper this holiday season, particularly when it comes to high-end fashion. Designers like Coach and Gucci, once considered elite fashion among midrange shoppers, have become much more affordable in recent years," she says.
Rodeo Drive Resale (shopRDR.com) has built a reputation of providing amazing deals on handbags, clothing and accessories from the top designers of upscale fashion. The company offers a 100% guarantee of authenticity on each item sold, and works daily with a network of clients looking to buy, sell, or for consignment of their luxury goods.
ShopRDR.com loves high-end fashion, and believes finding a high quality, classic piece should be an easy, enjoyable -- and most importantly -- hassle-free shopping experience. For the finest in Louis Vuitton, Chanel, Prada, Gucci, St. John Knits, Christian Louboutin, Tiffany & Co. and more, visit RDR online at http://www.shopRDR.com or call 1-888-697-3725. Also find shopRDR.com's blog at http://blog.shopRDR.com.
Also find shopRDR at:
Blog: blog.shopRDR.com
Facebook: facebook.com/shopRDR
Twitter: twitter.com/shopRDR
YouTube: youtube.com/ shopRDR
Pinterest: pinterest.com/shopRDR
Rodeo Drive Resale (shopRDR.com)
1-888-697-3725
service(at)shopRDR(dot)com