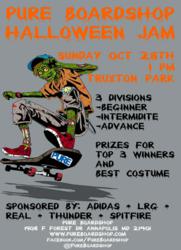 Annapolis, MD 21401 (PRWEB) October 15, 2012
The guys at Pure are no strangers to hosting and promoting local contests. They have been putting on a fun skate comp at their local park a handful of times per year for the past 6 years. There is never a charge to compete and the atmosphere is stress free for sponsored riders as well as beginners.
The awards are always back at the shop along with new skate vids on the big screen and LOTS of product on sale for the day of the event.
The owner, Robby Roberts, has been sponsoring and organizing snowboard, wakeboard and skateboard events since the mid-90's. Though the industry has calmed down a bit with the amount of pro's visiting and prizes flowed, Pure does it right with all top finishers receiving awards.
Each of the 3 divisions, Beginner/Intermediate/Advanced, has top 3 places. Each of these 9 skaters walk away with clothing, boards or shoes. These events have become so popular that Pure is always getting asked, "Duuude, whens the next event at Truxton?"
Pure Board Shop opened its doors on May of 2005. After co-owning Evolve Board Shops in Annapolis and Bethesda Maryland from 1993 to 2003, Robby Roberts put Pure on the streets a few years later. Its ease of access and parking make it a destination shop for riders and urban street wear fans alike. With their mix of products and variety in skate, snowboard , surf and exclusive street wear and shoe brands Pure's customers extend far beyond their Annapolis location. Pure prides itself on customer service being its number one priority, with product knowledge and having the right product mix a close second. The store and the website feature an ever growing inventory from brands such as Nike SB, Nike Snowboarding, Travis Rice, Lib Tech, Adidas skateboarding, Vans, Levi Skateboarding, Diamond, HUF, LRG, Neff, RVCA and The Hundreds, as well as a large selection of Sunglasses and other accessories. The shop also prides itself on having the largest inventory of longboard equipment in the area; with brands like Landyachtz, Rayne, Caliber, Cult, RAD, Abec11 and many more. Pure puts on skateboard jams and video premieres at their local skateboard park as well as sponsors many longboard slide jams and races in the Metro Area.
Contact Pure at 410-267-7669.
Their new website will be up soon; pureboardshop.com