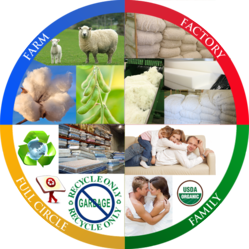 Prevention is key to living a healthier lifestyle
San Francisco, California (PRWEB) October 16, 2012
According to the Time Magazines article "Stopping Cancer in its Tracks," J. Madeleine explains that, "The conceptual revolution that is just now sweeping into the clinic began in the 1960s, when researchers started to realize that cancer is a disease of DNA, the master molecule that encodes the genetic script of life." Further explaining that factors that contribute to cancer can be viruses, radiation, environmental poisons, defective genes inherited from parents -- or a combination of all of the above. With the latter being hard to control, one can only control their environment. Consequently, consumers must be aware and notified in great detail what it is exactly they have purchased, labeled and defined.
It is explained clearly in a Madeleine article written by, Drs. J. Michael Bishop and Harold Varmus at the University of California San Francisco, that the causes of geneses to go cancerous from environmental and other factors came in 1976, is a startling observation. Madeleine summarizes that they saw that a viral gene known to cause cancer in chickens was practically a carbon copy of a normal gene found in animal and human cells. The virus had somehow stolen a perfectly good gene and put it to bad use. This finding helped lead to a general conclusion: cells become cancerous because their normal genetic machinery goes awry.
So what is the key to staying safe from harmful poisons as a consumer? Choose Organic.
According to Suzanne Diamond, CEO of The Futon Shop, "I believe that consumers, if informed, choose to go green because they want a better life for themselves as well as a better future for their children." The Futon Shop along with many other companies and organizations have been coming together to inform consumers how to make more informed decisions when purchasing products, to make a positive change in their lives. As active citizens with knowledge and awareness, we can all make the right choices for our future and our health.
The Futon Shop, the largest organic mattress retailer in America, based in San Francisco California has been practicing sustainability since 1976. The Futon Shop believes in the Farm to bedroom movement. Farm-to-bedroom refers to a movement concerned with producing home furnishing and mattresses from organic materials locally harvested, naturally processed, and chemical free. The Futon Shop has been certified by Green America's, Green Business Network, as an environmentally conscious socially responsible business. A few of the factors that have made The Futon shop a green company are: they have eliminated wood sourcing from areas where illegal logging is rampant, reduced emissions and exposure to toxins, use of components that have low to no voc's (volatile organic compounds), Use of non-toxic finishes and adhesives in their core products (including varnishes, surface coverings, paints, and glues), as well as choosing composite woods that are made with non-toxic wood treatments. In this day and age, a consumer should always do research while shopping around to look for green companies that care about their customer's health.
The Futon Shop is a vertically integrated retailer that manufacturers over 33 organic and green mattresses from start to finish. The company dates back to 1976 led by Suzanne Diamond and her team of specialists dedicated to producing eco friendly furniture and bedding. Their mission is to produce the best eco-friendly/chemical-free Organic and Natural futons, organic mattresses, futon covers for sofa beds, futon frames, and platform bed frames that promote better healthy living and a good night's sleep for all.