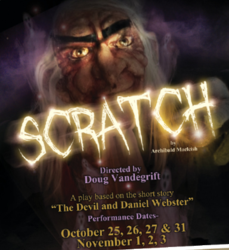 Salt Lake City, UT (PRWEB) October 17, 2012
Salt Lake Community College's Black Box Theatre presents Archibald Macleish's 'Scratch' October 25-27, 31 and November 1-3. Performances will begin at 7:30 p.m. in the Black Box Theatre, located at the College's South City Campus at 1575 South State Street.
Based on the O. Henry-winning short story "The Devil and Daniel Webster" by Stephen Vincent Benét, the play retells the classic Faust tale in a performance featuring live actors interacting with puppets. Doug Vandegrift directs this play that is perfect for the Halloween season.
Tickets are $8 for general admission, and $5 for students. Tickets can be purchased at the Grand Theatre's box office by calling (801) 957-3322.
About the College: Salt Lake Community College is an accredited, student-focused,urban college meeting the diverse needs of the Salt Lake community. Home to more than 62,000 students each year, the College is the largest supplierof workforce development programs in the State of Utah. The College is the sole provider of applied technology courses in the Salt Lake area, with 13 sites, an eCampus, and nearly 1,000 continuing education sites located throughout the Salt Lake valley. Personal attention from an excellent faculty is paramount at the College, which maintains a student-to-teacher ratio of less than 20 to 1.