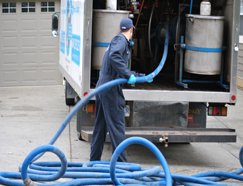 Pressure washing is the fastest, easiest way to give your building's exterior a facelift.
Vancouver, British Columbia (PRWEB) October 16, 2012
AcroTech Cleaning Systems is making a commitment to superior customer service in an industry where this has, traditionally, been difficult to find. AcroTech offers a comprehensive service that focuses on customer care with a personal touch, right from the first point of contact, through to the follow-up call after the job is completed. Customer satisfaction is the company's major focus.
"Our commitment is to our clients and our focus is on end-to-end quality of service," says Director of Marketing Brendan Huff. "Our business success is built upon the repeat customer. We retain our customers by providing superior service utilizing better technology."
AcroTech uses state-of-the-art technology to ensure efficient environmentally friendly service. If detergents are required for power washing, then only environmentally friendly products are used. Pressure washing is the fastest, easiest way to give your building's exterior a facelift. For window cleaning, AcroTech uses Tucker poles and de-ionized water technology, ensuring sparkling windows every time. The company also offers gutter cleaning, installation and repair and steam cleaning, a process that is particularly effective in dealing with mold and fungus.
Customers will be pleased to know that Acrotech uses truck mounted vacuum systems to remove debris from gutters, minimizing any contact with your roof. This technology is proven effective and is the least intrusive gutter cleaning method. What's more, Acrotech only uses ladders with roof standoffs, which eliminate the possibility of denting or damaging your gutters. Acrotech treats your property like its own.
AcroTech's high standards of service clearly pay dividends as referrals and repeat customers now provide the majority of their business. Their prices are standardized and customers receive a clear statement of costs before work commences. Drivers reconfirm each appointment with clients 15-30 minutes before the scheduled arrival time and clients are booked into one- or two-hour time blocks so that there are no delays.
Customers needing pressure washing in Vancouver or any other exterior maintenance services should visit http://www.acrotechcsi.com for further information.