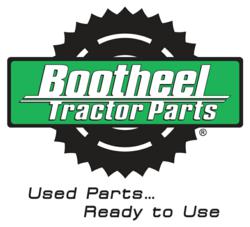 "Each part goes through a 3-step inspection process to assure it's up to the Bootheel standard. Plus, every part comes with a 2-year parts warranty." -Shawn Archie, Bootheel Owner
(PRWEB) October 16, 2012
Bootheel has built a strong reputation with farmers and mechanics alike, providing the very best certified used and rebuilt farm tractor parts available. Adding to their parts inventory and dedication to keeping farmers up and running, Bootheel is now offering a third product line, Used Parts+ that gives customers the same high standard parts, with lower prices across the board.
"This new line of parts are priced at or below market value, but are still higher quality than other folk's used parts," said Shawn Archie, owner. "Each part goes through a 3-step inspection process to assure it's up to the Bootheel standard. Plus, every part comes with a 2-year parts warranty."
If they can't beat a competitor's price, Bootheel is also offering a best price guarantee, where customers will receive up to $250.00 off their next purchase. The offer pertains to Bootheel's entire inventory, including Case IH, Ford/New Holland, and John Deere farm tractor parts.
Bootheel utilizes a computerized inventory system to ensure their customers only have to call once to locate the parts they need, which is only one way they have made a name for themselves in providing used farm tractor parts at a higher quality than industry standards. They also provide a vast selection of over one-million used parts kept safe from the elements within their state of the art, climate controlled warehouse to optimally preserve part conditions.
Their certified mechanics put each rebuilt and certified used part through a rigorous 5-step quality control process to ensure they'll keep farmers working all the way through the season—and beyond. Each used certified or rebuilt tractor part is pulled and verified from a state-of-the-art computerized inventory system. The part is cleaned and taken to Bootheel's Quality Control Department for inspection. Once the Quality Control Dept. signs off on a part, it moves to the shipping department, where it is inspected and approved by the shipper. Finally, before anything leaves the warehouse- even used international tractor parts- its standards must be approved by the shipping manager.
"Our number one priority is keeping farmers at work by offering honest, straightforward pricing on the quality parts they need most," said Archie.
With this new line of used tractor parts complete with warranty and price guarantees, Bootheel is once again raising the bar they set, providing farmers with the parts they need for a price they can afford.
####
ABOUT: Bootheel Tractor Parts provides farmers affordable, reliable, quality used tractor parts and equipment from respected manufacturers such as John Deere, Case, International Harvester (IH), Cummins, and Ford-New Holland. Every part undergoes extensive testing and quality control procedures before shipping to the farmers who depend on their use.