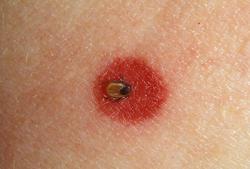 ...the victim suffered a Lyme disease brought by a single tick bite.
Raleigh, NC (PRWEB) October 18, 2012
Tick has turned a biker's life for the worse in a story shared by courierpress.com. According to it, the victim suffered a Lyme disease brought by a single tick bite. And just like the victim, MyCleaningProducts wanted to help the public prevent it and recommended the use of a non-toxic tick repellent.
Based on the story, the victim was Nick Bohler, an avid biker. In the summer of 2008, he was bitten by a tick while racing in Tennessee. Months after it, he experienced severe symptoms of exhaustion and muscle and joint pain. He described that just getting up became a struggle to him and he couldn't even put the trash out because of lack of energy.
Additionally, the story related that it took more than a year before it was determined he got Lyme disease. And though he is now treated, he professed that because of the said disease, he will never be the same again.
A tick-borne disease, Lyme disease is just actually one of the illnesses that the tick can bring. Along with it, the small arachnids could also bring Q fever, Colorado tick fever, tick paralysis and bovine anaplasmosis among others.
However, MyCleaningProducts asserted that with awareness and well-implemented preventive steps, anyone can avoid contracting those illnesses. And as Nick Bohler suggested common sense prevention, so does MyCleaningProducts.
Particularly, the website advised the application of non-toxic tick repellent. It said that with the product, a person could get rid of ticks and keep the others away safely. That's because it also prevents chemical-related health problems.
And of all the non-toxic tick repellent available today, MyCleaningProducts asserted that its Tick Bully is the best. It has already been used by several pest-control companies it said.
Order Tick Bully Today and Get 31% Off. Just Type Code "HALLOWEEN" at Check Out.