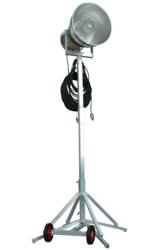 Everyone knows how powerful a 400 watt metal halide light is and how much area it covers.
Kemp, TX (PRWEB) October 15, 2012
The EPL-24QP-1X4-250 explosion proof tank light is a powerful explosion proof tower light system that combines a high output metal halide lamp with a highly stable yet adjustable and collapsible four legged tower. This portable tank lighting system includes a 400 watt metal halide lamp that produces 36,000 lumens mounted on top of an adjustable aluminum tower with a four leg quadpod base fitted with two solid rubber wheels. The aluminum light tower is adjustable from 4.5 feet to 9 feet in height to provide precise area lighting coverage and can be collapsed, the lamp assembly and wheel attachments removed, and the legs then folded for transport or storage. The four leg design of this tower platform provides better stability than standard three leg light towers, and the included rubber wheels allow operators to easily maneuver the entire unit from one area to another once set up. The 400 watt lamp head measures 23 7/8 inches in diameter, allowing it to be fitted through standard 24 inch entry ways for use within tanks and containers during cleaning and servicing operations. The metal halide lamp can be adjusted vertically up or down and a 250 foot SOOW cord with ECP1523 Class 1 explosion proof straight blade plug provides ample length for convenient and safe connections. The metal halide lamp on this tower will effectively illuminate 20,000 square feet of work area and provides the high quality light needed for close work and inspection activities. Hazardous location approvals for this explosion proof tower from Larson Electronics LLC include Class 1 Division 1, Groups C and D, and Class 1 Division 2, and a T3 operating temperature rating. Power options for this light include standard 120 VAC and optional 240 VAC at 50/60 Hz. The EPL-24QP-1X4-250 quadpod tower light is ideal for hazardous locations such as within containers and tanks where high power and portability are necessary and provides added versatility with wheeled mobility and easy to transport and deploy collapsible construction.
"Everyone knows how powerful a 400 watt metal halide light is and how much area it covers," said Rob Bresnahan with LarsonElectronicsLLC.com. "That is what makes this light such a good fit for operators working in hazardous location areas such as tanks, since this explosion proof EPL-24QP-1x4-250 400 watt metal halide light tower cart delivers 36,000 lumens of light."
Larsonelectronicsllc.com produces a full range of metal halide floodlights, explosion proof work lights, portable work lights, intrinsically safe light, and LED trouble lights. The Larson Electronics family of brands can be found on Magnalight.com, LXFlashlights.com and Larsonelectronicsllc.com. You can also call 1-800-369-6671 to learn more about all of Larson Electronics' lighting products or call 1-214-616-6180 for international inquires.