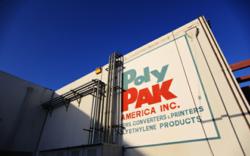 "...these improvements will lend to PolyPAK's commitment of having the right tools, in the right hands, to provide stellar customer service to our partners."
(PRWEB) October 14, 2012
PolyPAK America, based in Los Angeles, California, is a leader in the production and manufacturing of plastic mailers and security bags, as well as polyethylene bags and film for the lawn and garden industry. PolyPAK is proud to announce the renovation of its sales and administrative office.
Located at 2939 E. Washington Blvd. in Los Angeles CA, PolyPAK has lived in its home office for over 30 years. The modernization of this sales office makes way for new staff, greater office efficiency, and improved office dynamics.
The renovation, which lasted approximately four weeks, encompassed an expanded waiting area for visitors, a more spacious conference room, more open workflow, and expanded office spaces for current and future employees.
"The timing is right for us to make this change to modernize our office space," says Richard Gurewitz, the founder and president of PolyPAK America, "these improvements will lend to PolyPAK's commitment of having the right tools, in the right hands, to provide stellar customer service to our partners."
Julie Bender, Director of Sales of PolyPAK America, said "We're very excited about the changes and upgrades. This renovation will give our team a renewed vigor with a fresh atmosphere to work in."
During the renovation, office staff was relocated to secondary office spaces to accommodate the change. Although the sales staff worked remotely, business continued as usual.
About PolyPAK America
PolyPAK America is the West Coast's foremost source for custom and stock poly mailing envelopes. In addition to poly envelopes, PolyPAK also manufactures heavy duty bags for the lawn and garden industry, wood products, Ice Melt , mineral and mining industries and a comprehensive line of agricultural films and produce packaging. PolyPAK has been in business for over 35 years extruding, printing and converting poly film. PolyPAK America's facilities are located in Los Angeles, CA, Vernon, CA, and Lancaster, PA.