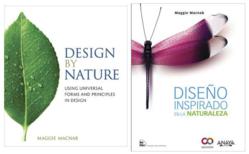 Santa Fe, NM (PRWEB) October 17, 2012
Design by Nature, a book authored by Santa Fe University of Art and Design(SFUAD) Graphic Design contributing faculty member Maggie Macnab, is currently a double finalist for the 2012 New Mexico-Arizona Book Awards in the Reference and Nonfiction categories. Winners will be announced at an awards banquet in Albuquerque Nov. 16. Design by Nature, which an American Library Association review called "essential" reading, is also now available in Spanish, Chinese, and Korean. The English version was published in 2011 by New Riders.
A May/June 2012 review in Communication Arts Illustration Annual says, "Design by Nature's 300 pages are chock-filled with stunning and informative visuals and written commentary. The patterns and principles of nature are expressed in historical and contemporary imagery, annotated in just enough well-chosen words to provide meaning and context. Chapters explore the shapes, patterns, efficiency, structure ethics and, obviously, the aesthetics of nature as it relates to the world of design."
At SFUAD, Macnab teaches what she calls "design experience" as opposed to design theory. Her unique approach integrates symbolic information into design to create effective and accessible visual communications that have the potential to translate into any language and any culture. Macnab also provides customized workshops for professionals about integrating symbolism into effective visual communication, and she has taught logo design and symbolism as an element of visual literacy for designers. She founded her own agency, Macnab Design, in 1981.
"Nature is our first language. Written and verbal language came much later," said Macnab, adding that human senses help interpret energy in the universe, which can inform successful design. "I teach what I find is relevant to students' lives. I want to prepare them to problem solve by being consciously aware of their intuitive sensibilities—it's more than just teaching design aesthetics."
Macnab has received national and international recognition for creating designs that focus on meaning, beauty and usefulness. Her honors include an ADDY Award for logo design from the American Advertising Federation in 1983, the International ECO Award from the National Resources Defense Council, and awards from the New York Art Directors Club. She is past president of the nonprofit organization Communication Artists of New Mexico.
This fall, Macnab will be a featured presenter at the TEDxAcequiaMadre conference in Santa Fe, where she will discuss the topics contained within Design by Nature. The event will be held Nov. 3 at The Screen on the SFUAD campus. Macnab has also been invited to teach from Design by Nature at the U.S. Embassy–funded Casa de Los Tres Mundos foundation in Nicaragua next summer.
Free teaching materials supporting the book are available to educators on the Pearson Higher Education site. The ancillaries include teaching notes and slideshows for each chapter, examples of student work, and additional exercises not included the book. The nine-chapter book fits into a 15-week curriculum.
About SFUAD's Graphic Design Department:
The Graphic Design Department at Santa Fe University of Art and Design examines the dual nature of graphic design: as a vehicle for contemplative art and a specialized profession. Students learn the digital tools, craftsmanship, history and theory they need to embark on a successful career path as a graphic designer. SFUAD's Foundation Year in Milan gives students the opportunity to spend their freshman year at the leading design academy NABA, Nuova Accademia di Belle Arti Milano, in Milan, Italy, a world capital of design. In a different program, students can study in Milan for one year as an upperclassman and receive a dual degree: a Bachelor of Fine Arts from SFUAD and a Bachelor of Arts from NABA.
About Santa Fe University of Art and Design:
Santa Fe University of Art and Design is an accredited institution located in Santa Fe, New Mexico, one of the world's leading centers for art and design. The university offers degrees in arts management, contemporary music, creative writing, digital arts, graphic design, moving image arts (filmmaking and video production), performing arts, photography and studio art. Faculty members are practicing artists who teach students in small groups, following a unique interdisciplinary curriculum that combines hands-on experience with core theory and prepares graduates to become well-rounded, creative, problem-solving professionals. As a Laureate International Universities Center of Excellence in Art, Architecture and Design, the university boasts an international student body and opportunities to study abroad, encouraging students to develop a global perspective on the arts. Santa Fe University of Art and Design is accredited by The Higher Learning Commission and a member of the North Central Association, http://www.ncahlc.org.