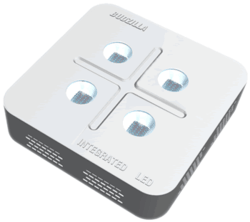 Unique Blending of Light
(PRWEB UK) 23 October 2012
Integrated led grow lights bring many advantages to the grower including a dramatic increase in reliability and stability and now thanks to Greenlights LED it is available to the masses.
Integrated led's are basically a bunch of smaller led's all placed together in a grid with each square having its own colour. This of course creates one large super powered led that kicks out a lot of light.
Unique Blending of Light
Integrated led's give an unique blending of light that has never seen before in any led grow light, this unique blending of the colours helps to ensure maximum distribution of all the required colours in the grow area. This unique blending of course helps to imitate nature more effectively which can only be a good thing.
Manageable Size and Weight
Budzilla is small and compact measuring 28.3cm x 28.3cm x 8.5cm and weighing only 4.6kg. Weight for weight these lights are 300% lighter than other lights of the same power and footprint.
Unlike all other led grow lights Budzilla do not grow in size to become more powerful, rather the led's are just larger and higher powered while the unit size remains the same.
This is great news for the grower who would previously be struggling to hang a light that weighs 15 – 20kg, no more bent tent bars and no more need to for additional support for tent bars.
90 Degree XL Lens
The Budzilla double lens is the most efficient and effective double lens on the market today giving an unsurpassed footprint while penetrating deeper than any lens has ever gone before.
Elegant Simple Construction
Unlike traditional led grow lights Budzilla has no PCB (printed circuit boards) instead the diodes are fixed directly to the massive heat-sinks with the positive and negative wires going directly to the diode.
So this breaks down to a very simple and elegant construction that provides greater durability and reliability of the overall product.
Budzilla breaks down like this:
4 fans
4 power packs
4 heat sinks
4 diodes
This of course means less wiring in the unit, which of course increases overall performance and longevity.
Massive Heat-sinks
Of course these new high powered integrated led's kick out a fair bit of heat as you would expect, but not to worry Budzilla has massive finned aluminium heat sinks that keep the units running at an average 20- 22 degrees.
Seed to Harvest Full Spectrum Ratio
Budzilla has a very effective full spectrum ratio that will grow your plants from seed to harvest.
Needless to say that integrated led can provide a more effective full spectrum ratio than traditional panel lights or cluster lights by allowing a more specific percentage based ratio of colours.