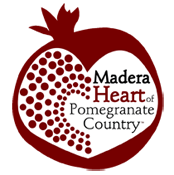 Knowing what the talented staff at The Vineyard can create, combined with pomegranates, this is going to be an amazing evening
Madera, CA (PRWEB) October 15, 2012
The Vineyard Restaurant in Madera will once again be hosting a special dinner as part of the second annual Madera Pomegranate Celebration.
The evening, which will showcase the versatility and flavor enhancement attributes of pomegranates, will take place Thursday, Nov. 1 starting at 6:30 pm.
"They've prepared an amazing menu once again. I honestly can't wait for this dinner, I think I'm looking forward to it more than Thanksgiving dinner," said Jarrod Lyman with the Yosemite Sierra Visitors Bureau and chairman of the Madera Tourism Alliance. The MTA is a committee of the Madera Chamber of Commerce and is putting on the week-long Madera Pomegranate Celebration.
The evening will start off with pomegranate infused appetizers and a glass of San Joaquin Wine Company's Pomegranate Sangria, followed by a green salad with pomegranate vinaigrette. The main course will feature pan-seared duck breast with a pomegranate glaze. Desert will be a very special pomegranate sorbet.
"Knowing what the talented staff at The Vineyard can create, combined with pomegranates, this is going to be an amazing evening," said Lyman.
The cost is $30, not including tax and tip. To reserve your set, call The Vineyard at 559 674-0923 or visit http://www.VineyardRestaurant.com.
Other Madera Pomegranate Celebration events include a 5K Run at Home Grown Cellars Oct 27, recipe Contest sponsored by Stiebs, two dinners hosted by San Joaquin Wine Company at Flemming's featuring their Pomegranate Sangria on Nov 2 and 3, a golf tournament at Madera Municipal Golf Course on November 2, a tour of the Three Sisters Demonstration Garden at the Madera Community College Nov 2 hosted by the Madera County Master Gardeners, a softball tournament will be hosted by Madera Parks and Community Services Department November 3 and 4, and the Pomegranate Festival taking place this year at Madera Municipal Airport.
For more information, visit http://www.PomegranateFestival.com or call the Madera Chamber of Commerce at 559-673-3563.