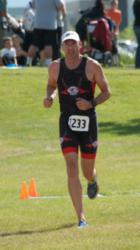 Functional strength training has now been adopted by everybody from the Indianapolis Colts to triathletes to Olympic athletes
Lindon, Utah (PRWEB) October 12, 2012
Dave Sherwin, founder of Escape the Matrix LLC and national triathlon competitor is now offering free functional strength training courses on his website http://DaveSherwin.com. Part online marketing expert, part fitness nut, Sherwin's personal website is a healthy mixture of web based entrepreneurial tips and personal fitness advice and training.
Having helped thousands of people lose weight through his nutritional and supplement sites like http://hcgezdrops.com, he realized that if people don't incorporate fitness into their weekly routines they are highly likely to gain weight back after the diet. Functional strength training is a great, basic fitness regimen that not only helps people get in shape, but also can prevent injury, and work those muscles that people often never even think of until they are injured.
Functional strength training is also unique in that it has fantastic health benefits to anybody, whether Olympic athlete or couch potato. "Functional strength training has now been adopted by everybody from the Indianapolis Colts to triathletes to Olympic athletes." Says Sherwin. Anybody can benefit. And the 4 unique workouts I have developed over the years incorporate only the best functional training elements."
Unfortunately, not all routines are created equal. He spent many hours poring over the latest in expert's advice and routines. Now, he wants to pass on what he has learned to others interested in improving their body's overall strength and endurance.
Sherwin's four routines can be found at: http://www.davesherwin.com/uber-fitness/functional-strength-training-and-prehab/
Dave has been competing in triathlons for more than 6 years; this August he competed in the USAT National Championships. Sherwin discovered functional strength training from his triathlon coach, and through injury and rehab he learned the importance of it. Sherwin saw improvements in his race times almost immediately. His first race after starting functional strength training he saw an improvement in his swim time of over a minute, a huge leap in the competitive sports world. He attributes much of his triathlon success this year to functional strength training.
You can find functional strength training, Dave's Ultimate Workouts, and other great health and wellness tips at http://davesherwin.com