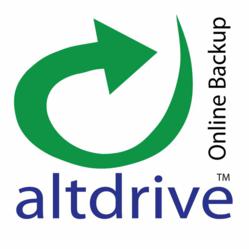 Backup Before You Wish You Had!
Seattle, WA (PRWEB) October 24, 2012
With Version 1.42, AltDrive's Online Backup offerings support Windows 8 and Mac OSX Mountain Lion allowing for a seamless upgrade path and comprehensive backup offering for consumers and businesses. The service still supports earlier versions of the computer operating systems.
Most people and businesses do not back up their important data regularly or at all. They do not have the time, or it's too expensive or complicated. But it happens too often - mistakes, computer viruses, negligence, fire, theft, hardware problems - when files are lost, often they cannot be recovered. With individuals, that can mean loss of important documents or priceless photos and videos. For a business, that can mean loss of everything.
AltDrive provides a long free no-obligation trial so that potential customers can fully evaluate whether the service suits their needs. Unlimited remote storage is just $3.71 per month (annualized) for Home customers. An inexpensive utility style plan is offered for businesses on a budget. The customer software is dummy-proof and easy to signup, install and administer using wizards.
AltDrive was designed for the paranoid. It uses a super strong AES-256 CTR mode data encryption cipher with a private key so that even AltDrive personnel cannot view customer's files - a must for savvy businesses. For convenience, home users can elect to have AltDrive manage the encryption key. Additionally, the company has located its storage assets in the secure Westin Building in Seattle where multiple levels of security are employed.
About AltDrive
Established in 2005, founded by a serial entrepreneur with security, scalability, and usability backgrounds, and located in Seattle, AltDrive's mission is to ensure that all computer data is securely backed up and versioned. The company is viable and debt free having been developed without outside investor capital. Visit http://altdrive.com for more information or to backup your computers.