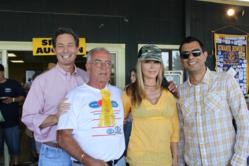 Los Angeles, CA (PRWEB) October 16, 2012
The 19th Annual Kiwanis Equestrian Competition For Special Athletes took place at the Hanson Dam Equestrian Center on Sunday, October 7, 2012. Sponsored by the Kiwanis International Club of Warner Center, the yearly competition provides many special needs children and athletes with the opportunity to compete in controlled equestrian events. In addition, proceeds from the gala are distributed to participating "Therapeutic Riding Clubs" which work with these special athletes on a year-round basis. The Kiwanis International was founded in 1915 and is a worldwide service organization.
Well supported by the greater Los Angeles community, luminaries in attendance included prominent LA attorney Bruce Traney, Esq. who founded and serves as the Chairman of one of the event's major sponsors, the Los Angeles Trial Lawyers Charities; Jubin Sharifi, Esq. of The Sharifi Firm, PLC and a Board member of the Trial Lawyers' Charities; April Horowitz, founder of Heart of a Horse; Los Angeles County Supervisor for the 3rd District, Zev Yaroslavsky, and Los Angeles City Councilman, Dennis Zine among others.
Traney was also the Grand Marshall of this year's event which also saw Willy Hostettler of the Kiwanis Club honored by the City of Los Angeles for his efforts on organizing and serving as the Show Committee Chairperson throughout the many years. In recognition of his service, a proclamation was given him by the city council which included a "sign-off" by Los Angeles' Mayor Antonio Villaraigosa. Commenting on the day, Traney noted that the "TLC couldn't be more pleased to be involved with the Kiwanis and so many wonderful people and groups who host this event so that challenged athletes have the opportunity to put their abilities on display." TLC is a charitable organization which supports projects that benefit children, such as the Kiwanis Equestrian Event, and whose members are Los Angeles lawyers.
Seconding Traney's sentiments, Jubin Sharifi, Esq. noted that "this competition is one of the more unique and inspiring events to watch as the fortitude and talent of the riders is evident all day long." An accomplished and experienced personal injury lawyer, Jubin Sharifi, through his tireless efforts in working for those who require his services, and commitment to various charities, such as Los Angeles Trial Lawyers' Charities, is a longtime supporter of the citizens of Los Angeles, San Bernardino, Riverside and Orange Counties not only in the courtroom but through events and groups such as these.
The 19th Annual KECSA Event was a tremendous success because of all of those involved and was made possible not only through the sponsorship of TLC but also because of contributions from the Hughes Family Foundation, Pepsi Co. and many other contributors