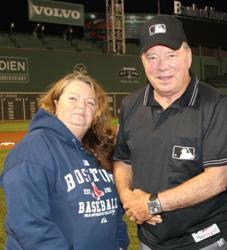 Boston, MA (PRWEB) October 13, 2012
Helen Bousquet, the energetic mother of entertainer Brian Evans, died on October 5th at The Holy Family Hospital in Methuen, Massachusetts following knee surgery.
Bousquet, 62, began her career working at AT&T, but gave up that career to help her son, Brian Evans, pursue a career in the entertainment industry. A high school graduate, Mrs. Bousquet helped her son land roles on such shows as "Full House," and runs in Las Vegas, moving with him to Las Vegas, Canada, Los Angeles, and traveling to Cannes, France to aid him in his pursuit of licensing deals for his music.
In the 1990's, Mrs. Bousquet took whatever employment she could land in order to assist her son, including becoming a Certified Nurses Aid.
"My mother was my rock. I frankly do not know who I'll be without her," says her son, Brian Evans. "I love my mom so much. My heart has been taken," he says.
Bousquet became more than support, she became creative in the arts herself. Her son's next album will feature the song "Croonerman," which she wrote. She also inspired the story "Horrorscope," written by Brian.
Enter the hit song "At Fenway," which on September 25th resulted in a music video set to debut in April, 2013. Helen co-stars with William Shatner in the music video, written by her son. The song is now in the National Baseball Hall of Fame. The shirt Evans, Shatner, and Bousquet wore will be added to The National Baseball Hall of Fame library in Cooperstown. The video was filmed September 25th.
In 2006 the Massachusetts State Senate awarded Helen Bousquet a citation for her contributions to her son's career.
"It was never my career," says Brian. "It was our career. We were a team with my friend Andrew Biltz, and we stuck together. We always will."
US Senator John Kerry and Scott Brown had just sent her birthday greetings this year, congratulating her on her 62nd birthday.
"The song "At Fenway," was our gift to Red Sox Nation," says Evans. "Now, the music video is so much more."
The music video will be dedicated to Helen Marie Bousquet when it airs at Fenway Park and beyond.
A more detailed release will be forthcoming for national release, and throughout Canada.