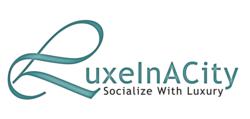 Montreal, Quebec (PRWEB) October 15, 2012
For most, November announces the start of the winter and the seasons of many thanks. With its cool weather, some might prefer to hop on a plane and head out down under to catch a glimpse of the coral spawn or explore the blues of the open seas. LuxeInACity has crafted an exclusive list of 10 best places to travel, hand-picked for the discerning traveler who is searching for a unique November escape. The below destinations cover the must-go places and must-attend events of November 2012. Approved by a team of world travelers who have visited 70 countries, this bespoke top 10 list is "LuxeInACity Recommended".
LuxeInACity's Recommended Top 10 Best Places to Travel in November are:
1- Rent a Villa in Barbados (Nature & Relaxation): With a cozy British charm, spectacular beaches, world-class golf courses, great nightlife and fine dining options, Barbados has been a favorite amongst villas renters for years. This "Little Piece of England" boasts some of the most luxurious villas in the Caribbean.
2- Culinary Inspiration at the Floating Market, Vietnam (Food & Wine): Offering a mix of culture and tradition, a morning spent exploring the canals of the Mekong Delta, south of Ho Chi Minh City is an expression of cultural beauty. Rent a small boat and explore the watery maze linking tiny green islands where tropical fruits abound and discover the rice paddies, fish farms and floating markets along the way.
3- Explore the Great Sands in Draa Valley, Morocco (Journey of a Lifetime): Edged next to the legendary Sahara desert, the Draa Valley is a stunning oasis filled with lush vegetations, small villages, snow-capped high-peaks and date groves. Rent a luxury SUV for a drive of a lifetime.
4- Cenote Dives in Yucatán, Mexico (Family Getaways): Pitted with around 3000 cenotes, underground chamber and rivers filled with clear-blue water, the Yucatán provides spectacular diving and snorkeling opportunities for the whole family. Explore the stalactites and stalagmites and swim through underwater caverns and snorkeling holes before feasting on a Mexican picnic.
5- Give Thanks New York, USA (Festivals): Soak up in American tradition on this celebration of thanks. Head out to the streets to watch the world-famous Macy's parade or simply enjoy the company a banquet of food and drinks amongst friends and family.
6- Sand-Yacht in Le Crotoy, France (The Great Outdoors): For the ultimate adventure, head out to Le Crotoy at the Somme Bay, the world center for sand-yachting. With giant sand flats and sharp wind, November is the best time to experience this unique sport.
7- Rekindle Love at the Taj Mahal, India (Luxury & Romance): A fairy-tale palace evoking romance at its finest, the Taj Mahal represents the architecture of love. In immaculate condition, the palace seems to be waiting the return of the imperial court. Enjoy exploring this celebrated monument.
8- Explore the Bluest of the Blues in Aitutaki, Cook Islands (Ocean Escape): A place of serenity and pure beauty, Aitutaki sits at the peak of a vast lagoon world-famous for its shimmering palette of blue hues. From emerald to aquamarine, cobalt, royal blue and periwinkle, the lagoon is a psychedelic rainbow of vivid blues.
9- Cheer on Sumo Wrestlers in Fukuoka, Japan (Culture & Arts): With no weight categories, the Grand Sumo Tournament is a must-see event. Applaud these dedicated athletes who have endure a life of hard training, personal sacrifice and segregation from family, friends and the rest of society.
10- Witness the Coral Spawn at the Great Barrier Reef, Australia (Wildlife Watching): Stretching 2300 km along the Queensland coast, the Great Barrier Reef is a disjointed collection of 2600 individual reefs and 300 coral cays. Visit the reef after the first full moon in November to get the unique opportunity to see the spawning of the coral reef, a nocturnal episode in which all coral reefs release both eggs and sperm at once.
Got an original idea for our December 2012 or January best travel destination list? Send us your tip at top10 (at) luxeinacity (dot) com.
About LuxeInACity.com
Launched in 2011 and with corporate headquarters in Montreal, Canada and Gothenburg, Sweden, LuxeInACity is an interactive guide to luxury cities from around the world. Providing priceless information to affluent consumers and travelers worldwide, each luxury city guides features a curated list of premium luxury brands waiting to service the bespoke needs of these high-network individuals. To entertain these affluent consumers in their search, LuxeInACity provides an engaging, comprehensible website with insights on the world of luxury through several media channels, Luxe Blogs, Luxe Videos and Luxe News, and relating to several key luxury categories such as travel, cars, yachting, art & culture, fashion, fine jewelry, watches, wine & spirits, hotels, villas and more. LuxeInACity connects luxury consumers with the luxury brands they love through an interactive web platform that facilitates both brand awareness and brand reach. The founders of LuxeInACity.com have traveled to over 70 countries.